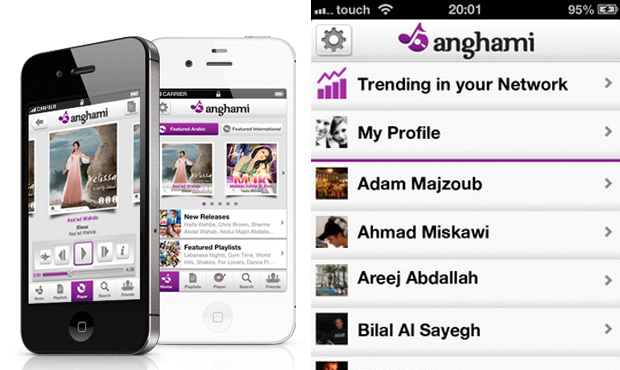 Last updated: 4 February, 2013
Anghami mobile app beats music piracy in the Middle East
With 20,000 new users per day, the Arab music-streaming startup Anghami is challenging giants like Spotify.
Downloading a mobile app outside the United States or Europe can be tricky. Many apps, for legal reasons, do not work in the Middle East. Spotify and Pandora, the leading music streaming apps, leave users in the region with a sorry-we're-unavailable-in-your-country error and a limited array of music options to turn to.
The solid on-the-go alternatives in the Middle East are tuning in to the radio with the likely element of surprise, and/or downloading international music through torrents, Youtube or the iTunes store. And with lax piracy laws in the region, illegal playlists are increasingly popular.
A music-streaming startup is blooming and has beaten the piracy issue. Launched by the young Lebanese duo of Elie Habib and Eddy Maroun this past November, Anghami is the Arabic equivalent of Spotify – and all music is streamed legally.
The free app will likely stay on the radar for a long while, seeing that no app can enter major app stores with illegal content, and Anghami claims to have the largest legal music catalog in the region.
Music downloads rarely come legal in the Middle East, so it is notable that Anghami has maneuvered its way onto listeners' devices – ultimately becoming the number one music app in the Middle East. "Music piracy is huge, so we're banking on the experience and convenience we offer to users to opt for Anghami as a greater alternative to piracy," Maroun, chief executive officer of Anghami, tells Your Middle East.
EDITOR'S PICK The art of skateboarding in Lebanon
The app mainly streams new releases and classics in Arabic, but also hosts a big library of English tunes, serving a bilingual region fully. Music includes legal, licensed releases from the four international music labels – Universal, Sony, Warner and EMI alongside the major Arabic labels – Rotana, Platinum, Mazzika and Melody. In such a way, listeners do not need different apps for different language preferences. So far, the app has acquired around 400,000 users, the count shooting upwards by 20,000 per day, according to Eddy Maroun.
The greatest perk of the app is that users can download music for offline mode listening, a plus with the slow/nonexistent 3G connection and expensive data plans in some Middle Eastern countries.
Anghami is available worldwide at no cost for Blackberry, iPhone, Android, and more recently, Nokia, in their respective app stores.