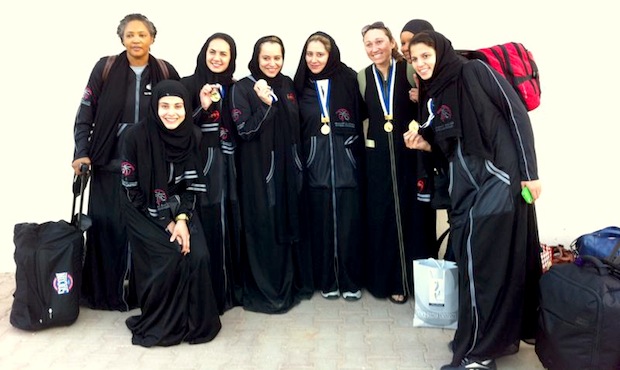 Last updated: 16 February, 2013
Jeddah United: A window to how Saudi society is changing
"When we were starting the company the majority of people were telling me to forget it," said co-founder of Jeddah United Sports Company (JUSC) and captain of its women's basketball team, Lina Almaeena.
"All the lawyers and people around me were telling me there was no such thing as sports for women in Saudi, and there was no way we could get a license or permission to establish anything legal."
Now, seven years down the line, the company has grown to consist of over 500 members, sends its teams to participate in local and international tournaments, and is gaining positive press attention throughout the kingdom.
What had made it possible?
JUSC was founded in 2006 with the aim of promoting sports culture throughout Saudi Arabia. It was established as the first Saudi company that trains and works on sports management for both genders. After returning to Jeddah having finished her university degree in the US, Lina found it difficult to find a team where she could continue playing basketball. Facing stress and post-partum depression as she had just given birth, she called her ex-team mates from her high school in Jeddah, and started in 2003 a small basketball team they named 'The Jaguars.' Lina, along side her husband, worked to evolve it into something they both sought to make more "cultural specific." This eventually came to be JUSC.
"What it is really is an academy. But we say company because our license is from the Ministry and Chamber of Commerce. But, technically, it's an academy. The only reason we couldn't get our license from the Ministry of Sports is because we have women and the ministry wasn't in favor of that back then," Lina explains.

It wasn't easy to start and sustain JUSC. Difficulties were encountered, specifically because it was encouraging women to play sports. It was initially taboo in the media – the media would at first not publish any of its press releases, stories or events. Its community, especially the Women's division basketball team, was labeled by the highest religious committee in the country as kalelat el haya (immoral). "We faced all this despite the fact that we had gender segregated teams and were working within the framework of our religion and culture," said Lina.
FOLLOW YOUR MIDDLE EAST!
Facebook
Twitter
Newsletter
Google+
Linkedin
2007 marked the Women's Basketball team's first international trip to the American University of Sharjah and in 2009 the team travelled to Jordan and played against Jordanian national teams. It was then, for the first time in the history of Saudi Arabia, that games for a Saudi female sports team were being publicised on local and international news.
"Upon returning to Saudi, however, we were aggressively attacked in various ways. For one thing, the media completely drew things out of proportion; exaggerating match scores to make us look like we had lost badly. While pictures mocking us sarcastically were circulating the media, Sheikhs were criticizing the fact that we had travelled alone without our mahrims (unmarriagable kins)," said Lina.
Today JUSC does not encounter these problems. In fact, it is now communicating with the ministries of Health and Education in order to implement certain programmes that promote physical activity and education. "A lot has happened in a decade. Society has changed from us being completely taboo, to having media outlets call us all the time and ministries working with us," she added.
Allowing women to play sports emerged as a national debate in Saudi. Health problems, including epidemics, diabetes and obesity, were being addressed, along with the 19 billion riyals that were being spent by the Ministry of Health in order to treat such heart related diseases. The Shura Council itself started talking about girls' sports. "I'm not saying it was all because of our team. But we were definitely one of the factors that stirred up the whole thing; that got the government to start realising that private sectors and certain initiatives did exist, and that they should therefore support them. Writers, journalists and academics certainly played a role in campaigning and defending us," said Lina.
As for religious figures, Lina makes sure to stay in constant dialogue and debate with them. Many are in fact starting to listen and provide support. Kuwaiti Dr. Jassem Almutawa', to give just one example, recently interviewed and highlighted the academy's work on Iqra, a religious channel, owned by a Saudi businessman. "On the one hand, we still have certain religious individuals who are against us, but on the other, we now have a group of religious figures who are very much for what we do," she said.
According to Lina, religious conservatives who are still against JUSC and what it stands for are, in a way, losing the battle. "Yes, there are some parents who objected to having their daughters play sports when they heard that state schools would be starting sports programmes, but this is no surprise – society is of course going to differ. But as far as the government is concerned, we made it to the London Olympics in 2012, and as far as the education system is concerned the Minister of Education has clearly said they are in the process of integrating P.E in girls' schools. The governor of Mecca similarly claimed that girls' sporting clubs are going to be built throughout the city," she added.
The academy's main difficulty today is funding, which prevents it from renting its sports facilities for longer time periods. It is also difficult to find local female coaches for the women's teams, as physical education is still not being taught in Jeddah's local schools and universities. The coaches for JUSC's women's teams are therefore mainly foreigners, flying in from abroad.
To join JUSC members pay SR500 per month. However, its corporate social responsibility department trains handicapped and disabled girls, and offers programmes for underprivileged boys from the south of Jeddah. JUSC also grants sponsorships to those who cannot afford to pay the fee but who, nonetheless, have exceptional athletic skills.
JUSC established Khobar United in 2010 followed by Riyadh United in 2012. "While we recruit national and Olympic level of players, our main aim for the future is to continue promoting the culture of sports throughout Saudi cities more than it is to strive after the competitive aspect of it," said Lina.
DON'T MISS The five must-follow Saudi Twitter accounts