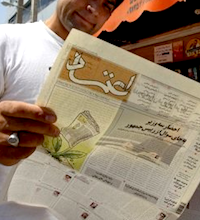 Last updated: 19 February, 2013
"Journalists are neither advocates of the government nor political activists"
We are journalists!
…But for many years, we have been continuously assailed by those in power and have suffered various security, political and social indictments for doing our job.
The media has been restricted in countless ways. Newspapers and websites have been banned.
Journalists have been losing their jobs, had their homes raided, and been threatened, terrorized, and forbidden from publishing their work. Many journalists have been imprisoned for months and years on end.
We, journalists, have therefore come to stress, "we are journalists": protectors and operators of the fourth pillar of democracy, people who uncover deficiencies and guide society towards progress and development.
Journalists cannot be the panegyrists of power and servitors to the ruling parties or opposition. Journalists are neither advocates of the government nor political activists.
Journalists report only the truth as demanded by their professional duty and help to bring about a dynamic society by generating debate and dialogue on different problems in different fields.
When journalists are detained on the basis of invalid accusations, are forced to make false confessions, forbidden from working as journalists, forced to stay at home or to leave the country, society suffers a loss of journalists and media that can accurately portray reality.
Society is thereby deprived of growth and dynamism. This loss of independent media leads to an increase in the presence of media dependent on and representative of those in power. Such media gives credit to lies and allows those in power to determine what is regarded as truth. The audience will lose its trust in the media.
We are journalists, we constantly challenge internal and external censorship, await proscription by hardliners or politicians, are worried that our press will be banned and that we will lose our jobs.
We are confronted with conflicts and tensions daily, have to deal with official and unofficial institutes to prepare a single report, news, interview or other routine tasks, but continue our work out of love for reporting the truth and fulfilling our journalistic duty.
We believe that the profession of journalism in the current environment in Iran deserves appreciation and respect rather than threat, terror and detention.
We are journalists, we do our professional duties and believe in informing and criticizing those transgressions in our society and in creating a space to argue and exchange opinions. We believe that free expression in the media must not be regarded as a crime by any law or standard.
We demand immediate and unconditional freedom of all imprisoned and detained journalists. We also demand all forms of censorship to be determined and nightly arrests as well as all threats and terrorizing of journalists or their families inside and outside of the country to be stopped.
We are all journalists, with different individual and social identities and with a multitude of views, but we are all colleagues. We consider any threat to the journalist, a threat to the whole community of journalists.
We are journalists and it is our duty to support truth. If being a journalist is a crime, we are all accomplices to that crime.
Iraj Adibzadeh, Abdolreza Ahmadi, Firouzh Akbarian, Sogand Alikhah, Hoshiar Ansarifar, Hamidreza Arianpour, Faeghe Ashkevari, Pouya Azizi, Ahmad Batebi, Alireza Behnam, Naeimeh Dostdar, Farshid Faryabi, Mojgan Ghafari Shirvan, Kambiz Ghafouri, Omid Habibinia, Reza Hajihoseini, Ahmad Hashemi, Helen Hemmati, Nader Jahanfard, Ahmad Jalali Farahani, Reza Jelodarzadeh, Sepideh Jodeyri, Zahra Kamali, Saghi Laghaie, Masoud Lavasani, Sadighe Mahmodi, Rouzbeh Mirebrahimi, Amir Mohsen Mohamadi, Arezo Moradi, Amir Hosein Mosala, Morteza Musavi, Solmaz Naraghi, Mana Neyestani, Touka Neyestani, Alireza Nourizadeh, Aliasghar Ramezanpoor, Ardavan Rouzbeh, Behnam Saber Nemati, Ahmad Safa, Leila Samani, Hengameh Shahidi, Noushin Shahrokhi, Saed Shams, Ali Sharifian, Ali Shirazi, Maryam Soltanzadeh, Siamak Zand.