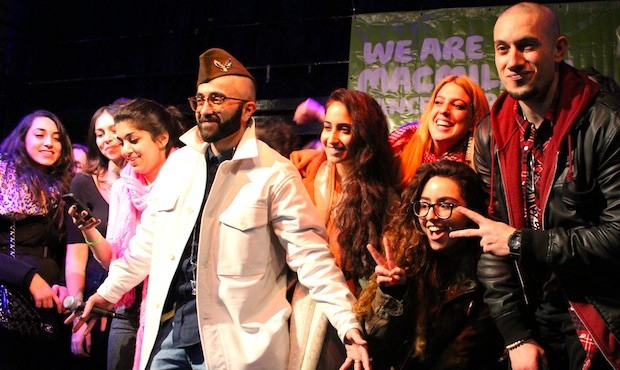 Last updated: 4 March, 2013
The Narcicyst and Omar Offendum: Our internationality is our nationality
Anyone familiar with Arab hip-hop will know that The Narcicyst and Omar Offendum are two of its biggest stars. The dynamic duo, also known as Yaseen Alsalman and Omar Chakaki, first met online over 10 years ago.
Their shared interest in hip-hop and similar background brought them together at a time when Middle Eastern rap was not common. Since then, they have both had individual global success and regularly tour, performing to different audiences around the world – often to raise money for charity. Earlier this month they touched down in London for their first one-off show together in the capital to raise money for Macmillan Cancer Support. Supported by various special guests including rapper Crazy Haze, musical twosome Native Sun, and MC Shadia Mansour, the night managed to raise almost £3,000 for the British cancer charity.
ALSO READ 5 great Arab hip-hop artists
Omar Offendum explained that the pair were in the capital for a friend's wedding and decided to put on the event while they were in town.
"It was chosen by the bride of our friend who is getting married. Her best friend is battling cancer and Macmillan has been very supportive so they chose the charity."
Before they went out to perform at Camden's packed out Jazz Café, I got the opportunity to sit down with them for a chat.
DR: When would you say you started getting into hip-hop and who were your influences?
Narcicyst: I started getting into hip-hop at a very young age of about 11. It started off with NWA, EZE, Dr Dre, a lot of west coast music for some reason. I don't know why it started with that. And then I started getting into more Biggie and Pac and Nas and all the classic greats, you know, and the narratives that they were sharing. It's funny because I went into the 90's and then I dug back into the 80's. We were in the golden age of hip-hop, from 92-99, and then after we finished that golden age and everything went to shit for a couple of years, we went back to the stuff that was before it so I really listen to everything. I even listen to the new stuff that comes out that is shit, just to know what is going on in the industry.
Would you say that the music you make is influenced in any way by western hip-hop or music in general?
Narcicyst: I would be lying to you if I said it wasn't. I grew up in Canada so I am just as much western as I am eastern. As much as I rap in Arabic, most of my music is in English. So I think it's definitely influenced by a lot of western music but also eastern music. The content and the lyrics are driven by our eastern experience but the music is definitely influenced by the western stuff that we grew up listening to.
You were both born in the Middle East and raised in North America. Would you say that you experienced any identity issues growing up? And how much has that affected the music that you make?
Omar Offendum: Of course, that's a big part of why I do what I do. I used hip-hop from a very early age. After 9/11 I used it as a platform to bridge the two seemingly opposing sides of my identities together. Both in literal and not so literal ways, it is important. One example I often give is that when I'm in the states performing for an all American audience, I will still go out of my way to perform a song or two in Arabic just because I want them to hear this language in a beautiful way. It is a way to demystify it, demystify the culture and make it something more relatable to people. They see me and they know me as Omar, the guy who raps and then they see me do a full Arabic poem and so they make a connection to it that they wouldn't normally be able to make.
There are obviously the negative stereotypes that I think you inevitably have to battle being who you are in another country, an Arab Muslim in America. But those experiences, to me, don't make up who I am. I don't like to harbour them or dwell on them. For a long time people were so quick to tell people what we aren't, we're not terrorists, we're not extremists, we're not this, we're not that. But they didn't go out of their way to tell them what we are and why we're so proud of who we are, our culture, our heritage, our background, our poetry our food, our music. That is where I come in and why I think that what I contribute has value.
Narcicyst: Our early music was very much reactive to the Iraq war and reactive to 9/11. Then as we grew out of that age it became us sharing that experience of a jumbled identity. Trying to discover who we are as men, or as boys, or as sons, or as brothers. I think a lot of that identity crisis still seeps into the music that we put out today. I recently put out a project called 'leap of faith', which was about my move back to the Middle East and taking that leap of faith to move back to Arabia and it's like a re-identity crisis to move back to the Arab world. So anywhere we go there is an identity crisis or you can almost see that identity crisis as stability. That instability is our stability. We don't necessarily need one platform to be comfortable, we can be anywhere in the world, that is the one thing that I realised. Our internationality is our nationality.
Does the fact that you both come from countries in conflict – Iraq and Syria – affect your music? And does it make it more personal?
Omar Offendum: Definitely. What happened in Iraq, happened over the past decade while we were coming of age and exploring our identities through music. The struggle in Iraq was very real and it was something that (The Narcicyst) was connecting with through his music. It was a different experience altogether than what is happening in Syria in the sense that that was a foreign occupier who came and invaded. But, it was America, and it is not as easy to have your voice as amplified when it is America that is doing the killing and you live in North America. So, it is very different to what I am going through now, being at the age that I am and being the type of conflict that there is in Syria. But, I would say, on a basic level that we can definitely relate but at the end of the day, for both of us, I think it is bigger than all of that.
We grew up in the west but have very strong connections to the Arab world, to the Middle East. Our parents still live there so we have a pull to the region that is even stronger than the average second or third generation immigrant and our music really reflects that and our styles reflect that.
As far as how much the politics affects our music, I think it is in so much that it affects our life so it comes out naturally when we express ourselves. But we are not going out of our way to overtly be the Iraqi rapper or the Syrian rapper, people just take it as that because that's were we are from. Our ideas, our visions and our dreams are bigger than that and that is why more people can relate to us than just Syrians and just Iraqis.
What message do you want to send through your music?

Narcicyst: Be you. That is what my name is about. The Narcicyst is really two-fold, it is about being comfortable with who you are, accepting who you are and loving who you've become as a person and accepting your flaws that you see. But also to not forget that we live in a very narcissistic world and even the way that I'm vain, because I like jackets and shoes, distracts you from the real problems in the world. It is about not forgetting who you are and not forgetting the world, so just be yourself is my message.
Omar Offendum: Overall, if I had to give somebody a message, I would say to remind each other of the humanity that binds us all. We are all human beings at the end of the day and we share this earth and I think the sooner we can start acting as a family the better. That is a very 'kumbaya' sort of message, but on a basic level what I'm doing with my music is combatting the negative stereotypes. It is itself a message that I can be a confident young Arab, Muslim male expressing myself in both languages and comfortably pulling from Arab poetry. We offer an alternative view to what people are constantly being fed in the mainstream media and something that is real that people can connect with. I think that is most important.
What are your plans for the future?
Narcicyst: I have a new album coming out and a new solo record coming out at the end of this year. I just shot a short film in Dubai based on the new record that I wrote. And then I'm working on the Hobson Jobson collaboration record with Omar. I also just started a multi-media label called The Medium out in Canada. We do fine arts, visual arts, film, music, and photography and represent a bunch of artists all around the world. We have a mix of different artists under our wing and are trying to come in as a movement to do all types of media.
Omar Offendum: I am on tour constantly performing, whether it is fundraising events for Syria or trying to raise awareness and humanitarian relief for the dire situation in Syria. I am also working on a couple of different projects, an instrumental project with just Arabic poetry and my beats, my own record and an album hopefully towards the end of the summer. Eventually, something with The Narcicyst as well. We have so many tracks recorded but we don't have an album so we plan to put that together in due time. We have some interesting stuff in the works.
SyrianamericanA by Omar Offendum and the self-titled album by The Narcicyst are both available for download on iTunes.
EDITOR'S PICK Arab rappers take revolts to next level