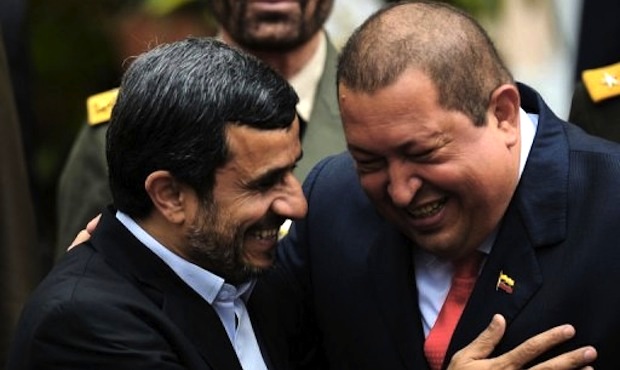 Last updated: 7 March, 2013
Iran-Venezuela ties: win-win game for reformists and conservatives
On Wednesday, Iranian president Ahmadinejad's government announced a day of mourning in respect of Hugo Chavez death, despite the fact that some clergies criticized the decision.
Iranians quickly reacted to Chavez passing, and few were surprised when Ahmadinejad said that he would travel to Venezuela to attend the funeral. What was strange though is his religious condolence message, in which he wrote that Hugo Chavez will return along with Messiah and the 12th Imam at the apocalypse to establish justice in the world.
Iran and Venezuela have enjoyed strong ties ever since Khatami's term and both Khatami and Chavez regularly visited their respective capitals. This relationship has deepened during Ahmadinejad's reign; Chavez visited Tehran 13 times after his rise to power in 1999, and Ahmadinejad has himself been to Venezuela six times after he became president in 2005.
ALSO READ Memories of Tehran International School
Iran got increasingly involved in Venezuela's economy with large-scale projects through companies run by the Islamic Republican Guards or groups connected to them. Private companies started to "win" major deals such as hospitals, road construction, and housing complexes in Venezuela.
In a 2012 report from The American Foreign Policy Council, Norman Bailey wrote:
"Since 2005, with Venezuela's assistance, Iran has created an extensive regional network of economic, diplomatic, industrial and commercial activities, with significant effect. The sum total of Iran's declared investments in the region now stands at some $20 billion."
Kayson is one of the biggest private companies working in Venezuela, but it came under scrutiny by oppositional media when it was clear that it had ties with the Iranian government.
The company is owned by reformist technocrats, yet work closely with the current conservative government in Iran. When it comes to money-making machines, there seems to be no war between the political factions.
Last year, leftist oppositional media accused reformist politicians to have shares or ownership in Kayson and because of these benefits their relatives can easily go back and fourth to Iran without difficulty.
One of those ending up in the spotlight was Farrokh Negahdar, ex-leader of Fadaian Khalgh Organisation (Majority), who is now a main reformist figure abroad. He was accused to reap huge economic benefits and of being a conformist. Negahdar recently denied the accusation and said he is not the owner of the company but stated that one of his close relatives inside Iran owns it.
Last month, another scandal for the company emerged when Tahmaseb Mazaheri, Khatami's economic minister and Iran's former central bank chief, was interrogated at Dusseldorf airport by German police for not indicating that he carried a 300 million Bolivar cheque (equivalent of nearly $70 million). Kayson denied assumptions that any suspicious activities were behind the episode, saying Mazaheri merely transported the check as a favor to the company.
The incident brought more curiosity to the Kayson Company and its possible ties to the current Iranian government. At the same time reformists abroad, who have always warned the alternative movement to not go too far in its rhetoric and actions against the establishment, seems to believe the regime is capable of reform.
They write letters to Khamenei and put forward demands to the head of the judiciary to show they believe in the legitimacy of the Islamic Republic.
Such political games, negotiations and lobbying make segments of the traditional Iranian opposition angry and ultimately dissatisfied with anything less then the overthrow of the regime and the establishment of a laïque democratic republic.
EDITOR'S PICK Iran – there is no place like home