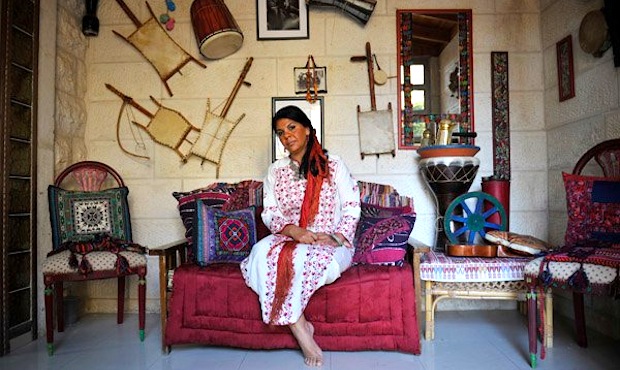 Last updated: 12 March, 2013
The Domari of Jerusalem: a forgotten community
In addition to its many direct victims, one of the tragedies of a longstanding conflict such as the Israeli-Palestinian confrontation is the tendency to ignore those who do not weigh in the fight. The Domari, the Gypsy community of Jerusalem, is one such victim.
Ignored by most, scorned by some, and discriminated against by almost all, the Domari eke out a harsh existence, marked by extreme poverty and neglect. But their story is not only one of misery and resignation; it is also about courage, vision, and the drive of one woman to transform the fate of her people.
Amoun Sleem, a young woman in her thirties, has been fighting for her community for the past thirteen years. With little help and virtually no means, she works with other Gypsies in the hope to bring change. In the small, peaceful community centre she built in Shu'fat, one of East Jerusalem's high-tension neighbourhoods, Amoun Sleem and her team of volunteers work with women and children, attempting to give them a chance at a better future.
ALSO READ Jerusalem's early film career
The story of the Domari, the Gypsies of the Middle East, is as mysterious as that of their counterparts in Europe. Little certainty exists in regard to their origins, the reasons of their migration and the age of the diaspora. Different sources date their arrival to the area anytime between the 6thand the 18thcentury.
The Domari have spread among some of the Middle East's countries and its surroundings, including Syria, Lebanon, Iraq, the Gaza Strip, the West Bank, Israel, Egypt, but also Turkey, Libya, and Sudan. Forever torn between the will to preserve their traditions and the need to participate in the economic life around them, the Domari converted to Islam and also adopted the local Arab dialect, in addition to the spoken Domari. But they have seldom managed to fully integrate and are still regarded as outsiders, often the victims of prejudice against them.
Anat Hoffman, Executive Director of the Israel Religious Action Center and former member of the Jerusalem city council who has been working with the Domari, sees their situation as a particularly cruel irony:
"It chokes me that people who suffer from oppression discriminate in such a way against those who live amongst them. It pains me very much that the Palestinians, who suffer so much discrimination at the hands of Israel, make the lives of the Gypsies so hard. Amoun and all the other Gypsies of her community tell the same story: teachers, school directors, who shame small kids, beat them, and call them names in front of all the other children of their class."
The Israelis, on the other hand, perpetuate the prejudice and the discrimination of the Domari either by ignoring their very existence, or by denying their attempts to bring change to the community. The city of Jerusalem only recognises the Domari Mukhtar as the community´s representative, even though the man has never been chosen for his own merit – he has inherited the title from his grandfather.
"The city of Jerusalem doesn't have any consideration to the work Amoun does. Very few associations in Jerusalem reach the degree of transparency, accountability and responsibility as Amoun's Gypsy society does. And still, the city will only deal with a man who inherited his title from the time of the British Mandate. And since only men can be Mukhtars, Amoun and her work get no recognition," says Hoffman, adding that because all state budgets and policies are handled on the local level through the city councils, Jerusalem's stance is a de-facto state decision.
Rejected by both Israelis and Palestinians, the Domari community, made up of about 300 families, is left with virtually nothing.
"Socially speaking, the Domari are at the very bottom. No other community suffers from such harsh socio-economic conditions, with unemployment rate as high as 50-60%. Illiteracy is also prevalent, with 43% of women having no education whatsoever," says Uri Scharf, CEO of MATI, a business development centre, which was alerted to the plight of the Domari nine years ago and then ordered an external study into their precise living conditions.
"Not only are their prospects so bad and their image so tarnished, they also have very little trust in their capacity to change their destiny and very little self-esteem."
Notwithstanding Schafer's gloomy analysis, Amoun Sleem has faith in her capacity to bring about change for her community.
Her start in life was not easy – her mother died when she was still young, and for a while, as a child, she spent her days selling postcards to tourists, preferring the streets of Jerusalem to the verbal and physical abuse she suffered at the hands of her teachers in school. Until she realised salvation required knowledge. She returned to school, graduated, and later got a diploma in business administration and hospitality management.
Armed with new experiences, Sleem created the Domari Society of Gypsies in Jerusalem in 1999, and in 2005 she founded the community centre in Shu'fat, where her team works with women and children.
"In the centre we do a variety of work. Women take courses that suit their capacities, workshops, and crafts, such as catering courses or hair styling. Children have after school programmes. We know their parents at home can't help them, so we try to support them in order for them to get a better education," she explains.
For a while, Sleem managed to enlist the help of MATI in her enterprise, getting the business centre to lend a hand in promoting women empowerment through the creation of small businesses and the support of local initiatives. But the cooperation only lasted a couple of years.
"Mostly due to lack of finances," explains Michal Shaul Vulej, Director at MATI. "But the community was very responsive to the project. The Domari came to the workshops and were genuinely interested in following them. They had aspirations and they were consistent in their work."
Sleem's decision to focus on the women of her community comes from her strong belief that they, more than anyone else, can bring change.
"I wanted to make some change in the Domari society as a whole, and if we start with women we can probably achieve that. But right now, the lives of the Domari women resemble very much the lives of other women in the Holy Land. It is very hard for them to go out and work. The men control everything, making it difficult for women to improve conditions within their family or even for themselves. Also those outside of our community are not willing to give Gypsy women a chance."
Considering all the hardships Gypsy women face, it is difficult to understand how Amoun Sleem, coming from a background of poverty and societal neglect, came about to play such a central role in a patriarchal community. For Hoffman, the explanation resides in her personality.
"Amoun is a wonderful and exceptional woman, in her leadership, and in the dreams she weaves for her community. If you consider all the obstacles she faces – her gender, but also her background – she's a true hero, taking a personal risk. Every day, she faces failure, rejection, and yet she never stops, never gives up. She could have gotten herself a job in some hotel, lower her head and let it be. But she chose to fight".
Sleem, on the other hand, refuses to consider herself as exceptional. Her work is merely an attempt to get for herself and her peers the life that she wants.
"We decided that the lives we had were not the lives we wanted, so we decided to give ourselves a chance, to bring change to our society, but also in ourselves, and that's why we were able to face the difficulties that rose in our society, where it's particularly difficult for women to get out. Some people think I'm crazy, and when a woman comes and try to make a change in our society, many people would rise against her. But I also think many believe in their heart that what I do is right."
She still yearns for a helping hand from outside her community. There is only so much she and her organisation can do without external support.
"This is what's missing for us. Without help, it would be impossible for us to bring change. I'm not a god, I already face problems from inside the society, and I need more hands in addition to my own hands to make this change happen, to build for the new generation."
EDITOR'S PICK Photo essay: The streets of Jerusalem