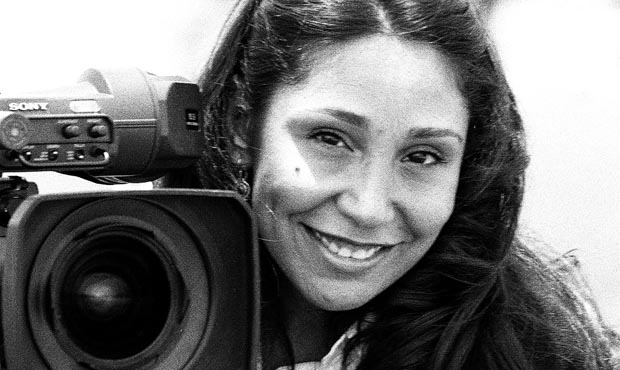 Last updated: 18 March, 2013
Podcast: Talking to Saudi filmmaker Haifaa Mansour
Your Middle East's Adam Hedengren had a conversation with Haifaa Mansour, celebrated director of Wadjda, about her film, gender relations and the change that is taking place in Saudi Arabia.
"She came in with jeans and Chuck Taylors, 80s style jacket, curly hair, listening to Justin Bieber."
This is how director Haifaa Mansour describes Waad Mohammed, who plays Wadjda in the film with the same name.
"She doesn't understand a word of English, but it is amazing how she is part of a bigger global youth culture," said Mansour about her lead star, a young native of Saudi Arabia with no prior professional acting experience.
But the director of the first full-length feature ever to be shot entirely in Saudi Arabia knew right away that Mohammed was perfect for the role.
READ OUR REVIEW OF WADJDA HERE
The life of rebellious Wadjda is central to the film, but the relationship between her mother and distant – albeit loving – father adds an important dimension. Although gender dynamics permeate the story, Mansour makes it clear that her goal was to look at the situation from a slightly different angle.
"I tried to make a film about compassion, I didn't want to say 'look women can't do stuff'," she said. And so we meet women like Wadjda and her mother, both with a strong sense of self.
"I didn't want to portray victims. It's tough in the Arab world and it's easy to make a victim, it's easy to make Wadjda into a girl that is sad…but it's hard to create that person who is happy and who is looking forward to change things," the director explained.
"Maybe not big things, things in her little world," she adds. This will give the audience – she hopes – a chance to feel less sympathy for the characters, and instead admire them.
Mansour also wanted to illustrate how men too face pressures and difficulties in this conservative society.
"Even in the father, it's important to make a character that…well, we don't like what he has done but we understand that he is a person and he is not bad."
While Mansour, who had to direct and supervise the shooting from inside a van due to the segregation of men and women in Saudi, recognizes that it is still a very conservative society, she also points out that progress is taking place.
"It's becoming more tolerant, relaxed, and women are enjoying more freedoms now. It's not the ultimate place of course, but I think it's changing thanks to a lot of people who are testing the boundaries."
The film embodies a sense of hope, portrayed by the characters themselves but also through the cinematography. Despite the potential seriousness of the themes, it is a warm film, with colour, beautiful imagery, humour and laughter.
Haifaa Mansour lives in Bahrain with her husband and two children, but she goes back to Saudi almost every week to see her mother. She has a strong connection to her native country and was cautious not to clash with the public, well aware that films tend to be a sensitive issue in the Kingdom.
"I wanted to make a film about them…an intimate portrayal about love and relationships and family…not come with a slogan and have this superior attitude," Mansour said, adding that she wanted to open a dialogue with the Saudi public, and take people on a journey and hopefully enjoy the film.
But then, there's of course the question of where they can watch it…
"Maybe one day we'll see cinemas in Saudi Arabia," she said with a smile.
For the FULL conversation with Haifaa, listen to our podcast above.
EDITOR'S PICK Egyptian filmmaker Amr Salama confronts attitudes to HIV and AIDS