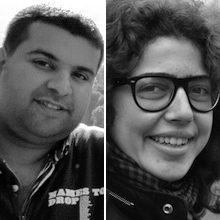 Last updated: 26 March, 2013
"With over 100 printed news publications, of which four are religious, none tackle the Freedom of Belief"
The regional media scene is dominated by the Arab world's everlasting obsession with "red lines" and taboos. Governments and religious groups are taking over most communication channels in the region, including satellite and radio channels, newspapers and magazines, alongside research centers and the press. Even the online sphere is largely submissive to political and religious trends and moods, which are usually known to be powerful and rich – and here lies the main problem. No, it is not the first time that the Gulf's Petro-dollars are used for religious calls and Islamic purposes, and yet, there is not one outlet for Atheists in the Arab World – no newspaper, radio channel, TV-channel or magazine.
Before social media arrived in the Arab World, Atheists were isolated from the outside world through the media-prison initiated by governments and religious institutions. After the internet became the main tool of expression, Arabs living in the U.S., Western and Northern Europe united and freely voiced their opinions about Freedom of Belief, in an attempt to break the virtual walls of the Arab mindset.
Governments back home countered this movement by censoring and banning websites like "Civilized Dialogue" in Jordan, the Kingdom of Saudi Arabia and Syria, only because it published articles about the freedom of being an Atheist.
Social networks opened the door to discussions between those Arabs abroad and their fellow citizens back home, and for the first time, taboos were openly discussed. This resulted in the creation of "The Arab Atheists Network" – a website founded between 2009 and 2010, and a Facebook group entitled "Very honest and quiet dialogues". These outlets offered a number of books, articles and translated content about Freedom of Thought and Belief. Yet, the end of these platforms came fast, after they fell victim to cyber-attacks. The website was hacked, whereas the Facebook group was reported by the members of an Islamic movement. The aim was to ban and censor any online content or platform that discussed Atheism.
ALSO READ Salafis and secularists breaking stereotypes over coffee
Bassaam ElBaghdady, a Swedish atheist writer with Iraqi roots, explained that the Arab Atheist Network and other discussion groups were destroyed and deleted systematically. It is said that Islamists started campaigns through Facebook in order to "report" these pages and the profiles of its administrators. ElBaghdady said that his own accounts on Twitter and Facebook were blocked several times due to these reports, and many YouTube videos that he had uploaded were deleted due to their content. This incident came concurrently with an aggressive Salafist campaign from Saudi Arabia, self-named Islamic Advocates.
Sheikhs like Ibn Baz, Mohamed ElOreify and Ali ElQorny from Saudi Arabia, and Youssef ElQaradawy, Wagdy Ghoneim, Mohamed Shaaban, Abou Ishaq, Mohamed Hassaan, and Khaled Abdallah from Egypt incited against Atheists. Same goes for Sheikh Mohamed ElAwadi from Kuwait, Adnan Ibrahim from Palestine and others. Most of them are members of the Muslim World League, an international Islamic meeting organized by Saudi Arabia, which aims at spreading Islam globally. Its main headquarter is in Mekkah.
Ever since 2010, social networks like Twitter, YouTube and Facebook have witnessed tremendous online activity of extremist Islamist groups (Salafis), and they had two ways of dealing with Atheist pages: Either they destroyed and hacked the websites or they organized a "report-operation", where members would continually report accounts or videos for abuse and thus, automatically let the social network block the account or content.
In October 2012, a young Syrian woman named Dana Baqdounis shared a photo of herself in which she had taken off her veil, after she was forced to wear it for 20 years. A few hours later, Facebook blocked the picture due to the enormous amount of "Reports" that it had been receiving.
The offline measures of Islamic Extremists would be to order or at least religiously allow the killing of Atheists, because they voiced their opinion online, and sometimes even bring them to court and imprison them. After an Egyptian Atheist shared videos of himself declaring that he does not believe in God, he started receiving harsh criticism. The situation escalated until he filmed himself tearing apart the Holy Book of Islam (the Holy Qur'aan). Egyptian Islamic Satellite Channel ElHafez showed the video on air and the result was that the Sheikhs in the studio declared it religiously correct to kill him.
Another tool against Atheists is court orders directed at their beliefs. Hamza Kashgheery from Saudi Arabia and Albert Saber from Egypt were imprisoned because they shared "Atheist" content on their social media pages. Abdel Aziz ElBaz, an Egyptian living in Kuwait, was arrested for disdaining religions. Arresting and imprisoning people for their personal belief clearly defies the Human Rights Declarations that these countries signed.
Let's take an Arab country as an example: Whoever denies the existence of Atheists in Egypt is as close to reality as an Atheist is to Faith. There is no official percentage of how many believers and non-believers live in Egypt. The official numbers only convey that by now over 90% of Egyptians are Muslims, whereas the rest are mainly considered Christians. Yet, it would not be the first time that official numbers contradict with Egypt's reality.
ALSO READ 10 years after the war: Iraq's media caught in sectarian crossfire
In a country where society, religion and culture determine one's course of life, it is hard to be an Atheist or even to doubt God's existence. To the Egyptian media, a Christian converting to Islam is a celebrated issue; a Muslim converting to Christianity is a catastrophe; a person conveying his disbelief in God is a taboo. With over 100 printed news publications, of which four are religious, none tackle the Freedom of Belief. Same goes to over 50 TV-channels that deal with Islam and Christianity. Even the books talking about Atheism in general and Atheists in Egypt specifically are out of print.
So where does an Atheist in Egypt go? He goes online. Ever since its creation, the internet has become the hub of freedom of expression – it is a perfect place for those that cannot voice their opinions in real life. At a closer look one must disagree: today, even those in the virtual world are confronted with attacks and – as discussed – "Reports".
Egyptian Atheist Ayman Emam is the administrator of a Facebook group aiming to bring Egypt's Atheists together and hold discussions. He tells us about how the hate against Atheists was built up in Egypt: "It all started with Sayed Kotb in the 1960s, as Sheikhs like Shokry Mostafa and Aboud ElZomor used social Islam to spread hatred against minorities – especially Atheists – and sometimes even declared the death of such as religiously correct. This went on till today. The latest incident is the one of a famous blogger called Masry Molhed (ed. note: as in Egyptian Atheist), whose death was declared religiously correct by Sheikh Abdallah Badr."
The famous case of Egypt's Maikel Nabil might well describe the reality of denouncing Atheists in the Arab World. Nabil was arrested, imprisoned and tortured several times for massively criticizing the military on his blog. Besides that, he also publicly talked about his disbelief in religion. One of the comments he got on an article entitled "To be an Atheist in Egypt" was by Anonymous, saying: "You are a **** child and need your throat cut off."
On the 7th of October 2012, the office of the Egyptian General Prosecutor started an official investigation accusing him of blasphemy / insulting Islam. In response, Nabil published an article in Foreign Policy entitled "Yes, I'm a blasphemer. Get over it." The point here is that several people looked past the torture that he had received because he was an Atheist.
The question here is directed at the administration of international social networks like Facebook, Twitter and YouTube: Why do you indirectly support the suppression of Freedom of Expression? If users on these portals feel annoyed or harassed by another user, they can always block them. Why invent a button that says "Report" and has the power to deactivate accounts? If a person became criminally active through his account, one can track them down and find them, but why does a person have to be deprived of his rights just because a couple of thousand people do not agree with his/her opinion? Isn't this the biggest form of suppression and confiscation?
Social networks should stop the possible deactivation of accounts by other users via "Reports", because most of these "Reports" are frivolous. Contradictory enough, calls to go after and murder Atheists and non-Muslims are freely published without restrictions, although it could be considered a criminal act.
In the Arab World, the state and religious institutions own all channels of expression, so a normal person has nowhere else but the internet to turn to. Therefore, there is a human and moral responsibility from the owners of social media to protect Freedom of Expression and Belief in the Arab World.
EDITOR'S PICK Interview with a Saudi atheist