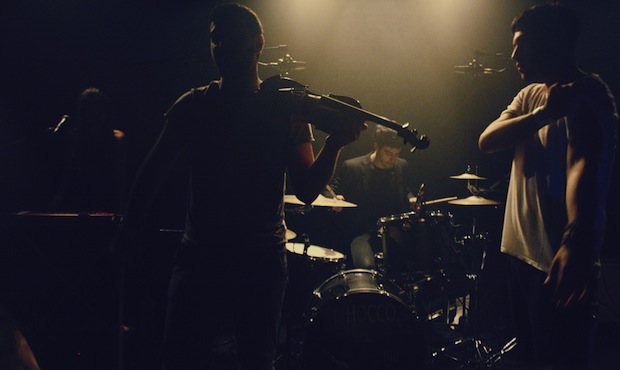 Last updated: 5 April, 2013
A music history of Beirut
In the Middle East's capital of music, tunes and politics are intertwined. Sham Jaff explores Lebanon's musical development, from the nationalist song of Wadih El-Safi to modern seminal electro-Arabic fusion bands such as Soap Kills.
In the period after World War II a number of artists emerged in Beirut, a fulcrum between oriental and occidental, most famously Fairuz, Sabah, Wadih El Safi, Majida El Roumi, Nasi Shemseddine, Ziad Rahbani and Marcel Khalifa.
Since then, Lebanese music has established itself as a symbol and leader of Arabic music. Today's stars such as Najwa Karam, Diana Haddad, Nancy Ajram, Haifa Wehbe, Wael Kfoury, Assi El Helani, Fadhel Shaker and Elissa have become household names in many countries around the world.
But when exploring a country's music, attention must not only be paid to its singers but also to its instruments. Lebanon's traditional music incorporates the deep and mellow sounds of the Oud, the beautifully decorated Derbakki (a kind of drum also known as the Tabla) and the Deff (also known as the Riqq, corresponding to the English tambourine).
DON'T MISS Yasmine Hamdan – femme fatale of Arab music
But if you really want to know all about Lebanese music, you will need to dance. Dabke is the national dance and the Lebanese people take particular pride in their skills in dabke dancing. Comparable to the Irish step dance or the Greek Hassapiko, songs such as Nasri Shemseddine's Ala Ali El Dar' have the perfect beat.
Wadih El-Safi's and Sabah's songs had distinct nationalist tones, reflecting the fact that many Lebanese were among the first Arab nationalists, particularly within the field of music. Mohammed Falafel, a servant of the Ottoman Empire in World War I, composed songs that became the anthems of many Arabic nations. From the very beginning, nationalism and music have been intertwined in Lebanon – the Rahbani Brothers and Fairuz are two other acts that should be mentioned here.
After World War I, Lebanon was occupied by France until 1946. Following independence, many Lebanese artists emerged in the 1950s and 1960s, carrying on a tradition that was born under the French mandate. Mixing Western and Oriental music styles and instruments, the Rahbani Brothers popularized local folk music and made Lebanese music a highly distinguishable and unique genre.
In the early 1970s, Fairuz also performed more Western songs, with lyrics that were closer to European traditions such as 'Habaytak Bi-Sayf' (which means 'I loved you in Summer'), which catapulted her to fame in the West. Another favourite is Samira Tawfik's 'Balla Tsoubou Hal Kahwa', which is literally about drinking coffee and adding more cardamom to it. The 70s not only produced these gems but also singers, if you will, like the Bandaly Family with their infamous 'Do you love me?'. Bear in mind that this was shortly before the Lebanese Civil War in 1975 began.
In the landscape of post-civil war Beirut, there was a vacuum that needed to be filled, and around 1993, peace began to feel like a possibility for the first generation of post-war youth who were eager for change. Lebanon is surely not stuck in its past and it is thus one of the few Arabic countries which has an actual alternative genre to its rich traditional music, with artists such as the rappers Ashekman or Rayess Bek and alternative bands like Mashrou' Leila or Youmna Saba. Seminal electro-Arabic fusion bands such as Soap Kills are considered to be the voice of an entire generation. Sounds derived from the production influences of Massive Attack and Portishead, Beirutian music has always been interpreted anew.
But Beirut is a complicated place. On July 12th 2006, Israel launched an offensive attack. After 33 days of heavy bombardment, Beirut's alternative scene suffered greatly. Its political instability however is not characteristic of its population. Not only did Lebanese music never cease to exist, but it was always subject to experimentation and innovation. Unlike in many countries of the West, where there always has been a clear line between music and politics, when in Beirut, one finds the two intertwined. Maybe this is the only place where musicologists also have to be good historians too.
EDITOR'S PICK The Narcicyst and Omar Offendum: Our internationality is our nationality