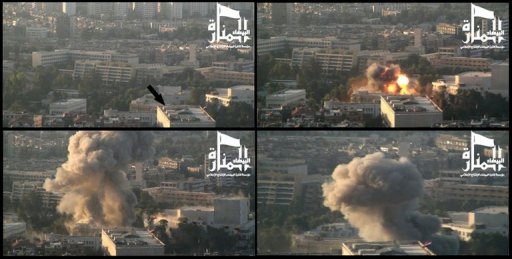 Last updated: 9 April, 2013
Qaeda in Iraq confirms Syria's Nusra is part of network
Al-Qaeda in Iraq confirmed on Tuesday long-held suspicions that it is behind jihadists fighting in Syria, as Washington said it was mulling new ways to drive President Bashar al-Assad from power.
The mainstream rebel Free Syrian Army kept its distance from the jihadists, insisting its alliance with the key opposition fighting force was purely tactical and that its goal was a democratic Syria.
"The Al-Nusra Front is simply a branch of the Islamic State of Iraq," the head of the Al-Qaeda in Iraq front group, Abu Bakr al-Baghdadi, said in a recording posted online.
Describing Al-Nusra leader Abu Mohammed al-Jawlani as "one of our soldiers," he said the two groups would merge under the banner of the Islamic State in Iraq and the Levant.
Baghdadi's comments came a day after an Al-Nusra-style suicide bombing in the heart of Damascus killed at least 15 people and wounded 146.
They also came after Al-Qaeda's global chief, Ayman al-Zawahiri, urged rebels to fight to establish an Islamic state in Syria, in an audio message posted on the Internet on Sunday.
Al-Nusra, which announced its creation in a January 2012 video, is a magnet for foreign fighters seeking to take part in the insurgency against Assad's regime.
The US State Department said Tuesday that Al-Qaeda in Iraq's "public claim of ownership of the Nusrah Front validates what we've long known that the Nusrah Front is the Syrian arm of AQI," said deputy spokesman Patrick Ventrell.
Washington already blacklisted Al-Nusra as a terrorist organisation in December, citing its close links to Al-Qaeda fighters who led the insurgency against US forces in Iraq before they withdrew at the end of 2011.
France said it wanted to hold talks within the UN Security Council and the European Union on the possible wider terror blacklisting of Al-Nusra.
But French foreign ministry spokesman Philippe Lalliot cautioned: "We must be careful when taking such decisions of the consequences this can have on the ground."
The FSA has struck a careful balance between Al-Nusra and its Western critics, mindful of the well-armed, highly disciplined jihadists' effectiveness as a fighting force.
"We don't support the ideology of Al-Nusra," FSA spokesman Louay Meqdad told AFP on Tuesday.
"There has never been and there will never be a decision at the command level to coordinate with Al-Nusra. The situation on the ground is what has imposed this."
— Syrians will decide on future state —
Al-Nusra has said it is seeking an Islamic state in Syria after Assad's overthrow, but Meqdad insisted: "No one has the right to impose on Syrians what shape their state will take.
"Syrians will go to the polls to choose their leaders," he said. "Our goal is clear — to bring down the regime and establish a democratic state."
The New York Times reported last month that the CIA was helping Arab states and Turkey to boost arms shipments to Syria's rebels, in a move to try to prevent the weapons ending up in the hands of extremists.
Asked on Tuesday if the United States was stepping up its military options in Syria, US Secretary of State John Kerry said such moves would be "part of our discussions this week in Washington".
Kerry also said he would meet with the Syrian opposition in London, in remarks to journalists shortly before he left Israel for the British capital.
"We will be discussing various means about having an impact on President Assad's calculations about where the battlefield is going," he said.
"We are left with no choice but to try find ways to get him to think differently about what lies in the future."
In fighting on Tuesday, at least 39 people were killed, the Syrian Observatory for Human Rights said.
State media reported that at least one person died in mortar fire near government offices in west Damascus.
Meanwhile, the United Nations said aid operations for hundreds of thousands of Syrian refugees had reached breaking point in the face of a massive funding shortfall, amid fears the numbers fleeing the conflict could triple.
And a UN team of inspectors charged with investigating two alleged incidents of the use of chemical weapons in Syria was blocked in nearby Cyprus after Damascus withdrew permission for it to deploy.
Syrian authorities said Monday they rejected the terms of reference being proposed by UN chief Ban Ki-moon, voicing fears of a repetition of the UN probe into alleged weapons of mass destruction in Iraq in the run-up to the US-led invasion of 2003.