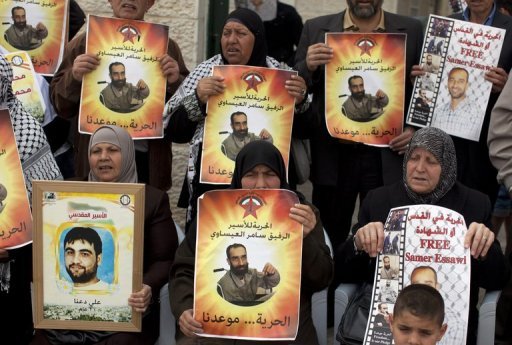 Last updated: 12 April, 2013
Israel trying to deport hunger-striking Palestinian
Israel has told the European Union and UN it can deport a Palestinian prisoner on a life-endangering long-term hunger strike to one of their member states, an Israeli official told AFP on Friday.
But a lawyer for Samer Issawi, who has intermittently refused food for more than eight months, said his client strongly rejected the Israeli initiative, and an EU spokesman said no "official" proposal had been received.
Issawi, 33, was first arrested in 2002 and sentenced to 26 years for military activities on behalf of the Democratic Front for the Liberation of Palestine.
He was released by Israel under a prisoner swap deal in October 2011, but rearrested last July for violating the terms of the agreement by travelling to the West Bank from east Jerusalem.
The Israeli official said Issawi had gone to the West Bank to establish "terror cells" there.
Israel has ordered that he serve the remainder of his original sentence.
Issawi's health has deteriorated because of his prolonged fast, and he was being held in an Israeli hospital. The Israeli official said he could "immediately be released to Gaza."
In addition, "over the last few weeks the prime minister's office was approached by senior EU and UN representatives, who expressed concern over his humanitarian condition," the official said.
Prime Minister Benjamin Netanyahu's office said Israel was willing to deport Issawi "to any EU member country, or any UN member country," said the official, noting that they had yet to receive an answer from either.
An EU spokesman told AFP that "Israel has not formally approached the EU on this subject."
However, the Israeli official insisted the issue "came up in official communications between officials on both sides."
Lawyer Jawad Boulos said that while "Israel had tried to make him agree to being deported" to any of a number of countries, including Egypt, Jordan, Turkey, Finland and Switzerland, Issawi had "strongly refused in principle to be deported to any state."
Issawi is the last of four Palestinian prisoners who were on extended hunger strikes in Israeli prisons, after two ended their fast in February and a third was exiled from the West Bank last month to the Gaza Strip for 10 years.