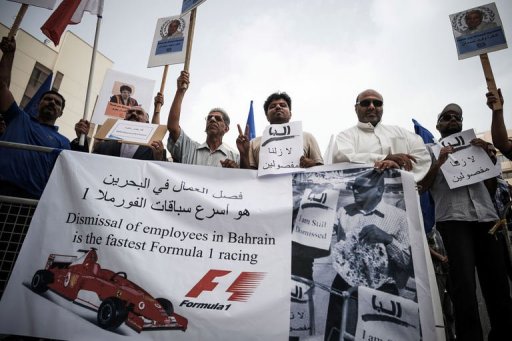 Last updated: 13 April, 2013
Thousands protest in Bahrain ahead of Grand Prix
Thousands of Bahrainis demonstrated near Manama on Saturday urging democratic reforms, part of a campaign of protests planned by the political opposition ahead of next week's Formula One Grand Prix.
Police used tear gas and sound bombs to break up a gathering of several hundred people in Sanabes, witnesses said.
Further south, a 14-year-old boy was severely wounded in the face and two people arrested when police fired buckshot and tear gas at demonstrators, the main Shiite opposition group Al-Wefaq said on its website.
But in Bilad Al-Qadim, several thousand people demonstrated peacefully, chanting "no to dictatorship" and "down with the regime," witnesses said.
Under the banner "Democracy is our right," the mainly Shiite opposition is organising a week of protests that began on Friday to coincide with the April 19-22 Grand Prix.
On Friday, Al-Wefaq chief Sheikh Ali Salman said the action was intended to support "demands for democratic transition".
"We do not want to hold up the race, but we are trying to benefit from the increased media presence," he said.
Salman called on his supporters to attend a demonstration planned for April 19, as the event kicks off on the Sakhir circuit south of the capital.
A second opposition group, the February 14 Movement, organised another protest on Thursday night in the village of Khamis that was broken up by police.
The demonstrations came as a report by Human Rights Watch that police have been rounding up pro-democracy activists in bid to head off protests stoked renewed controversy over the Gulf state's hosting of the Formula One event.
Bahrain was rocked by month-long pro-democracy protests led by the kingdom's Shiite majority in early 2011 that were crushed with the help of Saudi-led troops.
Protests have continued in Shiite villages outside the capital. Human rights groups say a total of 80 people have been killed since February 2011.
Last year's Bahrain Grand Prix went ahead against an ugly backdrop as police responded to protesters who were throwing petrol bombs by using tear gas, sound bombs and birdshot.