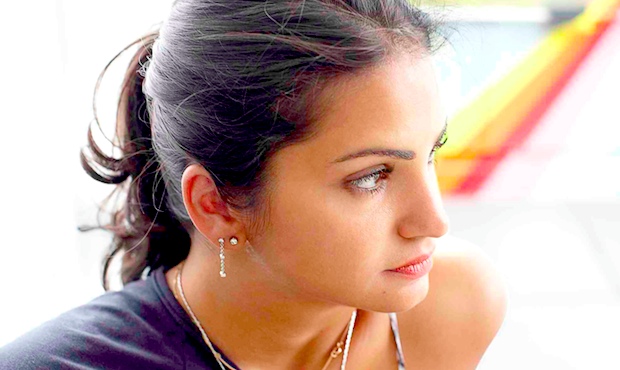 Last updated: 23 April, 2013
Interview with Saudi director and actress Ahd Kamel
Badar Salem had a chat with the celebrated filmmaker about Saudi society, the power of movies as agents of change and depicting feminine strength in a difficult situation.
As the only girl with four brothers, Ahd Kamel knows what it takes to succeed in a man's world. Growing up in Jeddah in Saudi Arabia, the 32-year-old had a supportive family and big ambition. Kamel went to become the first Saudi to get a directing degree from the United States — after finishing her BFA in animation. An assistant and technical advisor for Peter Berg's "The Kingdom," she was soon to capture the hearts and minds of her audience as a director, writer and actress.
In 2010, her debut film "The Shoemaker" (Al Gondojri), which she wrote, directed and acted in, won the best short film at Beirut International Film Festival, second prize at Dubai's Gulf Film Festival and the special jury mention at the Arab Film Festival of Oran, Algeria. Kamel's acting debut "Razan" also won her the best actress award at the San Francisco International Film Festival in 2006.
Her second film, "Sanctity" (Hurma), was the first Saudi movie to be screened at Berlin Film Festival last February. In the film, Kamel chooses a tricky subject to address women issues in Saudi Arabia including gender segregation by telling the story of "Areej" a pregnant, young Saudi widow who goes against social customs to protect her unborn child, as in Islam, a woman whose husband dies shouldn't leave the home for four month and ten days.
Why did you want to become a filmmaker? Did your family support your decision?
It was by pure chance that I became a filmmaker. In my senior year at college, I knew I hated my major in animation. I appreciated it but didn't want to do it. So, instead of doing a five minutes animated piece , I chose to do a 20 minutes doc, using animation to tie it all together. That's when I picked up my first camera, and I fell in love with it. So, I'd say that filmmaking chose me. My family was naturally hesitant in the beginning but they respected my choices.
Are you happy with the reactions to "Sanctity" so far? Is there a chance to show the film in private (movie theatres are banned in Saudi Arabia)?
I'm very happy and proud with the reaction "Sanctity" has received so far, it's a testament to my amazing cast and crew. I showed the film in Saudi Arabia, but obviously in a private setting and the reaction was great.
In "Sanctity" you shed light on the life of Saudi widows and how they are treated by society. Why did you choose this tricky subject? What was the message you're trying to send?
I don't like sending messages. I'm an artist who simply uses film as a mean of expression. It's all about asking questions, for example what would a woman do without a man in her life? I drew inspiration from my personal experience and stories I've heard along the years. I also wanted to show a feminine strength, her endurance. Usually, Saudi women are looked upon as oppressed, that's true, but it's not the full story. Women who are oppressed show much more strength in their endurance.
Choosing this subject shows a lot of courage, what were your main concerns or challenges while making this film?
For me the biggest challenge was time, we had seven days to shoot the whole film and most of the crew members never worked on a film set. But we were very lucky.
Why did you decide to play Areej yourself? Was it because you couldn't it find a Saudi actress or you loved the challenge?
I just loved the challenge.
Was it hard to shoot the film in Jeddah? Did you have to hide your equipments? Did you face any hostility from the community?
None at all. In fact, we were surprised by the community's response. They were extremely helpful and welcomed us into their neighbourhood with enthusiasm. They were the best.
Do you believe that films could actually be agents of change in a society? Recently, Saudi Arabia lifted a ban on women riding bikes. We'd like to think that the film "Wadjda" played a part in such decision?
Cinema is a reflection of reality, and to me, great films are the ones that move you from inside. So, I'd say yes, films are agents of change, in a way.
You yourself played a role in "Wadjda", how would you describe the experience, a Saudi director working with another Saudi director?
It was a great experience, playing an evil role was a first for me. I really enjoyed exploring the character. Also, the world Haifaa (Al Mansour) portrays was completely foreign to me. I grew up in Jeddah but had a totally different experience. So playing that part helped understand a part of the country that I knew about but never really experienced.
What is your main priority right now, building your acting or directing career, or you work on both in parallel?
I'm working on both of them, after all, they both complement each other. But at the moment, I'm focusing on acting more and I'm ready to work with a director who can push me to the next level. As far as directing, it's a surprise.
Are you satisfied with the publicity you're getting as a Saudi actress and director? Do you worry sometimes that Saudi talents are getting more attention just because they're Saudi?
Being Saudi definitely opens the door, but I have to walk through it. Hopefully, I will be labelled as an artist who happens to be a Saudi, not the other way round. For me, Saudi is my starting point but my ambitions are to reach the universal screen by acting or making films that are not necessarily about Saudi or the Arab world. I think for me to grow, I need to be able to find humanity in any character and to be able to make any story regardless of its origin.
Many commentators are arguing that Saudi Arabia is changing? Do you sense that change?
The whole world is changing and Saudi Arabia is not an exception. I'd like to see the freedom of choice introduced first. I should have the right to chose my guardian, I should decide if want to cover or not and if I want to drive or not.