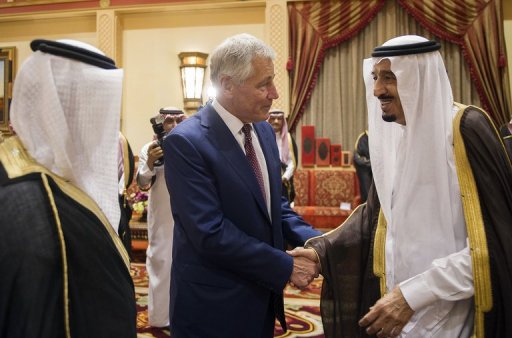 Last updated: 24 April, 2013
Pentagon chief heads to Egypt in Middle East tour
US Defence Secretary Chuck Hagel urged Egypt's Islamist-led government on Wednesday to press ahead with reforms in a trip designed to bolster America's alliances in a region swept by upheaval.
After meeting his Egyptian counterpart, General Abdel Fattah al-Sissi, and President Mohamed Morsi, Hagel said he came to express America's "commitment to Egypt's emerging democracy" and "encourage the democratic and economic reforms that are underway here".
Egypt has been a cornerstone of regional US influence since its 1979 peace treaty with Israel, but Washington has faced a more strained relationship with Cairo after the 2011 overthrow of veteran president Hosni Mubarak.
In his talks with Sissi, Hagel said the government should stick with democratic reforms to ensure "stability in Egypt and the region".
And he praised the Egyptian military "for the responsible role it has played during a difficult period in the country," said a senior US defense official, who spoke on condition of anonymity.
Hagel later met Morsi, elected in June as the country's first Islamist and civilian president, before flying to the United Arab Emirates on the last leg of his six-day tour of the Middle East.
Washington has increasingly adopted a critical tone towards Morsi's government over allegations the Islamists have stifled opposition figures and media.
US Secretary of State John Kerry, who promised to unlock aid to Cairo during a visit in March, said this month that Washington had "real concerns" about Egypt's course.
But US officials say security ties cultivated over decades between the two countries have survived the revolution and that America's military leaders still have a direct channel to Egypt's powerful top brass.
In the post-Mubarak era, the United States still provides more than a billion dollars in annual military aid to Egypt.
The huge funding package has always been seen as a way of ensuring Cairo abide by the 1979 peace accords with Israel.
In Wednesday's talks, Morsi reaffirmed Cairo's commitment to the peace treaty and voiced appreciation for continued US military aid, US officials said.
Hagel and his counterparts also discussed deteriorating security in the Sinai Peninsula, with the Egyptians pledging to deter militant elements and the Americans offering possible military hardware or advice, officials said.
Tensions rose after two rockets were fired from the Sinai at the Israeli Red Sea resort of Eilat last week, with a Salafi jihadist group claiming responsibility.
Israel has complained to Egypt over the incident and threatened to take possible military action.
Hagel, who took office two months ago, came to the Middle East touting a major arms deal with Israel, Saudi Arabia and the United Arab Emirates designed to bolster America's partners as a counterweight to Iran.
But Syria's raging civil war has topped the agenda through much of Hagel's trip that included stops in Israel, Jordan and Saudi Arabia, amid renewed fears Syrian President Bashar al-Assad's regime has turned to deadly chemical weapons in its fight with rebel forces.
"Every country we stopped in worried about the instability in Syria," said a second US defence official. "It came up in every stop we had."
An Israeli general in military intelligence said Tuesday that the Damascus regime had employed chemical agents, most likely sarin, in battles in recent months.
Hagel, however, urged caution over the Israeli military's assessment, saying it was "serious business" and all evidence had to be weighed carefully.
The United States has made clear any resort to chemical weapons or transfer to militant groups would cross a "red line" and possibly trigger military action.