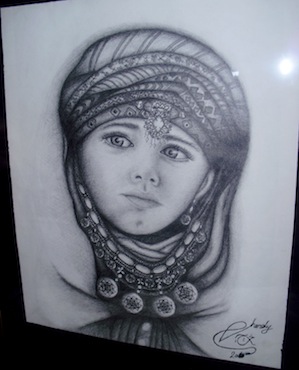 Last updated: 29 April, 2013
Meeting with an aspiring Yemeni artist
Kheira al Hindi paused for a moment and looked down at her fingers and said: "I like to draw women to present their lifestyle."
A few years ago, she finally decided to change her hobby into a career. It took courage to do so, particularly in the Yemeni context. She has exhibited a painting in a gallery in Old Sana'a but did not manage to sell it. She tried to sell her paintings to the tourist shops in Old Sana'a; and yet the economic situation in Yemen makes the shop owners reluctant to purchase or even showcase her work.
Kheira shares the difficult career path with other artists, and like many Yemeni creatives, Kheira has another job in order to survive and be able to buy painting materials. She earned her bachelor degree in Islamic Studies and is teaching both art and Quranic studies at a primary school.
According to Kheira, art education in Yemen is not qualified and universities do not offer such courses. It makes it more difficult for her and other art students to gain proper training without leaving the country.
I visited Kheira's mini size gallery in her home. The first thing that I noticed was the object of her paintings, mostly women. The artwork does not carry any religious agenda, she simply likes women in traditional Yemeni dress. One of her paintings is of a woman in a traditional dress with a water pottery on her shoulder.
"But the original painting of this belongs to a Yemeni artist. The ink of his name has disappeared due to age and I don't remember his name at all. My father bought this portrait many years ago when he was still alive."
What are you going to do with this painting? I asked.
"I want to enter the art competition. There is a competition held by the government and I want to use this painting to compete, but it is not done."
Whilst enjoying my chai halib (milk tea) I asked out of curiosity: Do your parents support what you are doing? Did your father tell you to stop when he was alive?
"My parents never told me to discontinue my hobby, although my father is not here, he was very supportive and my mother too," said Kheira.
Yemeni women's daily life is represented in your painting. How about hijab? Do you think that matters?
"Through my painting, I want to show the beauty of the Yemeni women. Their face is usually covered and you cannot see them. It will lose the beauty if covered with burqa or niqab."
So how does your art represent you as a Yemeni, Muslim, and an Arab woman?
Kheira looked at me and started to smile. "I am still discovering."
We both laughed.
Jacquelaine Wong is a resident and traveler based in Yemen, where she is discovering its people and culture. You can find her on her blog.
EDITOR'S PICK Art – a new tool for Hezbollah