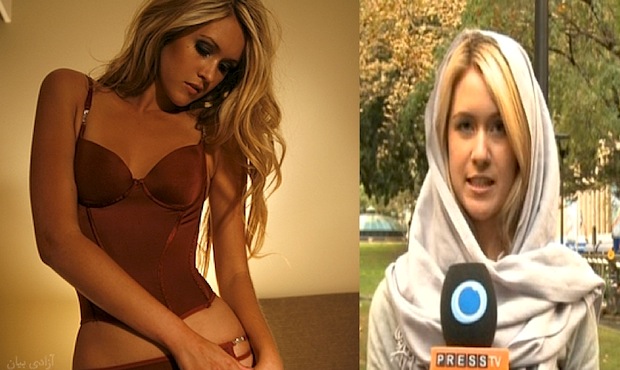 Last updated: 30 April, 2013
Press TV reporter too sexy for the Islamic Republic
Edwina Storie is a 24-year-old recent graduate from Macquarie University. She has no significant journalistic background, but a history of activity in "adult entertainment" and erotic modeling.
When she appeared some two weeks ago on Press TV with scarf and mantel, social media users were surprised and curious about her background, which led them to erotic websites.
Press TV once hosted foreign journalists abroad, but lost most of them in the aftermath of the 2009 uprising. Many left the channel in protest against suppression of the media as well as the regime's crackdown on journalists and protestors.
Now, they seem to follow their unwritten guidelines for hiring employees with little relevant professional background to broadcast propaganda lines.
As one of the first journalists hired for the emerging news channel (INN) in 1999, I can say that almost 90% of the staff had no knowledge in journalism or related fields. Furthermore, many of the remaining 10% or so, including myself, were fired by the Filtering Committee (Gozinesh) because of political, security or religious issues.
ALSO READ Iran – there is no place like home
I was working with the art, cultural and scientific news program, and both of our anchors were asked to leave their jobs due to local investigations. The male anchor was told by the managers to grow a beard while the female anchor, who fully obeyed the Islamic hijab requirement, was allowed to stay for some years. Having left the organization, I heard both had been forced to leave, even though their looks were completely in line with the hardliners' wishes. The anchors became increasingly aware to behave conservatively in their respective residence in order to avoid new reports from infiltrators of the Filtering Committee.
Almost half of the employees in Islamic Republic Islamic Broadcasting (IRIB) are women, but as in other parts of Islamic society they are considered the inferior sex. Very few women within IRIB, which is one of the country's biggest governmental organizations, reach managing posts. Usually, regardless of their background and experience, educated women are managed by a male boss who tends to come from IRG (Islamic Revolution Guard Corps).
As most staff in IRIB are temporary employees, they can be fired at any time and should thus be very carefully about what they say and what they do – not only in the work space but also in private life.
At the same time, the real hypocrisy behind the IRIB and Iranian media surfaces when sex videos, nude photos of celebrities, including those who play religious roles in TV series, leak on the Internet. Iranian society is ruled by hardline Islamic laws, which even doesn't allow you to wear what you want, and at the same time has the highest levels of prostitution, call girls, street girls, divorce and other socio-pathological disorders in the region.
But now it seems, for the channels broadcasting abroad, the IRIB became such a strong liberal force that it ignores whether or not their foreign reporters' life and backgrounds fit with their hardline Islamic values.
When Vexnews wrote about Edwina Storie, the news reached Persian websites and exploded like a bomb on social media networks such as Facebook. Storie, whose journalistic background includes some training here and there, made this video to show employers before she got a job at Press TV.
Press TV became more notorious after the 2009 uprising when it started to broadcast made-up confessions of imprisoned opponents and journalists.
They also denied the killing of Neda Agha-Soltan, who died in front of millions of people around the world through social media, and accused unknown spies and agents. Such propaganda made Press TV more isolated and unpopular abroad.
Last January, Ofcoms, the regulator and competition authority for the UK communications industries, revoked the Press TV license due to the Maziar Bahari case. However the TV still runs its ordinary programs.
Edwina Storie deleted her naked photos and disabled her Facebook account, but it seems too late. For an Iranian audience that has a special interest in following sexy stories of celebrities, this is an endless wave.