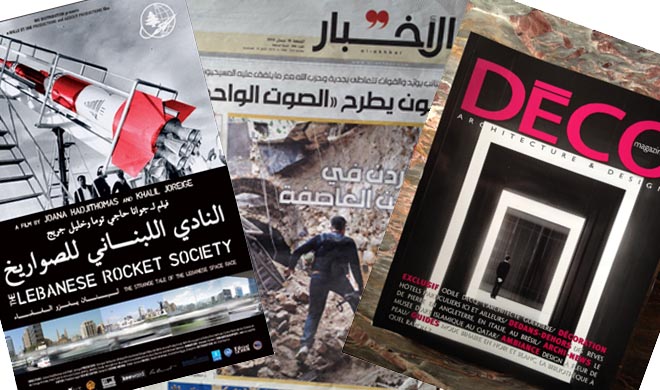 Last updated: 6 May, 2013
Blogger and journalist Marina Chamma has picked her favorites in Lebanon's media landscape.
Newspaper – Al Akhbar
I usually do not agree with its fiery editorials and its overall political affiliations, yet Al Akhbar is a breadth of fresh air into what has become the stale realm of Lebanese daily newspapers. Established in 2006, Al Akhbar has made a name for itself for its stimulating investigative journalism and for tackling issues such as corruption and labor rights that other media outlets shy away from. You wouldn't be able to read former Labor Minister Charbel Nahas' sharp but often well-deserved criticism of the Lebanese political system anywhere else, in addition to that of composer, playwright and performer Ziad Rahbani, with his trademark wit, humor and sarcasm. For non-Arabic readers, Al Akhbar English provides a selection of translated articles from the Arabic version, along with some original content for the English version.
Book – Amin Maalouf: Les Origines
Amin Maalouf rose to fame with his first book The Crusades Through Arab Eyes, quickly followed by one bestseller after the other, including Leo Africanus for which he won the prestigious Prix Goncourt in 1993. Born and raised in Lebanon, forced to move to France at the onset of the Lebanese civil war, Maalouf writes in French and recently became the first Lebanese to be inducted into the Académie Française. In Les Origines (Origins in the English translation) Maalouf reconstructs his family story starting in the late 19th century with his paternal grandfather in the mountains of Lebanon and his brother who immigrated to Havana.
Although Maalouf's is a personal account, it is also a glimpse into the history of many other Lebanese families at the turn of the century; dealing with uncertainty at home and hardship in the foreign lands they go to in search for a better life. Questions on Lebanese identity and the tumultuous history of the Levant, which form an indispensible part of the narrative, ensure its present-day relevance.
Film – The Lebanese Rocket Society
Since the 1990s, most of the Lebanese movie industry's efforts have been focused on the 1975-1990 war. Spearheaded by the tragicomic West Beirut, many movies have shed light on the war's repercussions on regular citizens, inter-regional and cross-confessional relationships. With more wars on the way, the heartbreaking Under the Bombs tells the story of a mother looking for her child and sister in the more recent 2006 July War, with astounding performances, filmed during and immediately after the end of the conflict. More recently, movies like Caramel and Blind Intersections have moved beyond the war and told the stories and struggles of everyday Lebanese. The Lebanese Rocket Society, may not be my all time favorite movie, but this recently released documentary uncovers a little-known achievement buried in the dusty archives of Lebanese history. I'm sure you didn't know that Lebanon played if only a small role in the space race by launching the Middle East's first rocket in the 1960s.
Magazine – Deco Magazine: Architecture and Design
As much as we live in an inter-connected world, it is easy to drown in the happenings of the smaller specific geographical location in which we live in. Many interesting new Lebanese magazines have popped up in recent years, bringing insightful research and perspective to local and regional matters. But I take a break from that with Deco Magazine; glossy, colorful and filled with pictures as any design magazine should be. It is a nice change to the news, with beautiful ideas from Lebanon and around the world on ways to make our increasingly crammed and shrinking living and working spaces more colorful, comfortable and inspiring.