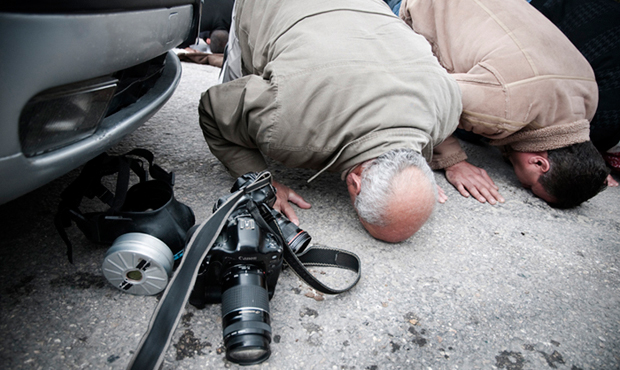 Last updated: 9 May, 2013
Are photographers distorting reality in the Palestinian Territories?
An image may say more than a thousand words, but this doesn't mean that it says the truth. At least if we are to believe Ruben Salvadori, an Italian photojournalist, who realised that photographers in the Palestinian Territories often distort the situations they shoot.
"Sometimes the situation is tense and dangerous. But many other times, the riots are nothing more than groups of young Palestinian kids with their face covered, who throw rocks and disperse after the first tear gas is shot or go home if no soldier comes," says Salvadori, whose project Photojournalism Behind the Scenes was one of the six finalists at the 2012 International Journalism Festival in Perugia.
"I started questioning our role in these situations, how our presence can influence the events we witness and how the process of conflict-image-production works. The massive attendance by the media makes the conflict become a show in which the photographer is an actor and has his own role."
Every Friday, there are clashes between the Palestinian population and Israeli forces. To be sure, such riots sometimes turn to the worse, but in many cases the situation is far from what is being shown through the camera lens. Images of Palestinian kids wearing face protection and standing with a fire behind their back can thus loose objectivity.
In a way, it's a kind of cooperation between the photojournalist and the protester where the former is looking for the sensationalist shot and the other simply wants attention for his or her struggle. According to Salvadori, it's almost as if some images are staged.
"Palestinian boys who made a road block out of lit materials…offers some Hollywood-style effects that work nicely for the cameras," he says.
Take a look at Salvadori's talk in the video above for some striking cases of when the true objectives of reporting appears to have gone lost.