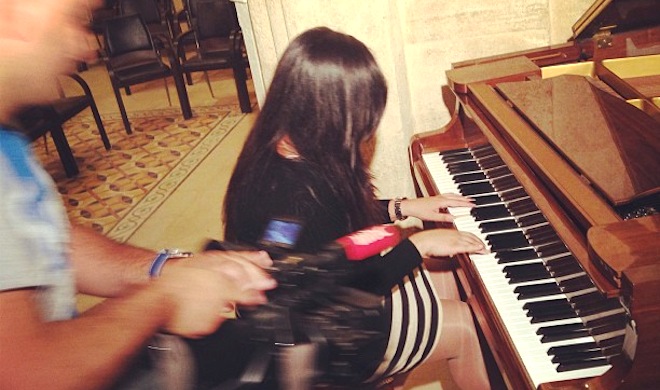 Last updated: 1 June, 2013
A voice for peace in war-torn Tripoli
"We don't walk our streets carrying weapons only," says local musician Heba Rachrach. Your Middle East's Victor Argo met a person passionate about showing a more nuanced image of Tripoli.
The headlines from Tripoli reflect only partially the violence, the suffering and the insanity that have beset Lebanon's northern capital in recent weeks: "nearly 1'200 mortar shells and rocket-propelled grenades were fired in Tripoli between 9 pm Thursday and 7 am Friday," The Daily Star reported, and also: "sniper fire killed at least four people in Tripoli on Saturday after another night of clashes."
When Syria goes bad, Tripoli goes bad too. The epic battle, the geopolitical proxy war that devastates Syria week in and week out, is reenacted in Tripoli on a much smaller scale, but no less violently.
It would be too easy an analysis to reduce the fights between the Sunni neighborhood of Bab al-Tabbaneh and the Alawite community of Jabel Mohsen to a mere sectarian conflict. These are two god-forsaken places that are economically deprived, with a high unemployment rate and a general feeling of "no future." Unrest and clashes rarely start in posh areas. They have too much to lose.
It is the insane logic of "when you fight then money will flow" that dictates the pace of events in Tripoli. The people of Bab al-Tabbaneh and Jabel Mohsen seem like two boxers in the ring – blood soaked, bruised up, with their gloves off – cheered on by a cynical crowd of petrol billionaires, aspiring hegemons and Beirut back door tricksters. You have to fight to survive. And you must kill for this.
And yet, there is at least one voice of sanity left in Tripoli. That voice, a loud voice, an assertive voice, belongs to Heba Rachrach, a young woman of 23 years. Heba is a graphic art and visual communication student, as well as a student of English literature. She is a musician too. Friends say that Heba plays a sharp electric guitar.
"I like to think that I proved them wrong."
However, it was through the piano that Heba became a self-made peace activist. "I was playing piano right after I woke up one morning last year," Heba told me, "somehow feeling at ease, despite the fights between Jabal Mohsen and Bab al-Tabbaneh being at their peak. I live quite far from this area, but the noises that came from those neighborhoods were nevertheless loud."
"But this never stopped me from living how I decided to live," Heba went on. "One minute into my piano improvisation, a bomb dropped somewhere near me and the sound of it was recorded – to my luck. I kept playing and ignored the vicious sounds that I had heard."
"Later that day, I decided to share what had happened with my friends, so I animated "Stop the violence in Tripoli," a short video that included the recorded music and the sound of an explosion in the midst of it. Then I posted it on YouTube."
So far, Heba's message has received a high number of views on the Internet and a remarkable amount of exposure in the Lebanese media. Now it is time to amplify her scream for peace in Tripoli further.
"What is your hope?" I asked Heba. "I hope," she said, "that I can spread more awareness about Tripoli's situation and to show to all Lebanese, in fact to all people, that there are many other peace seekers like me around here."
"And no," Heba went on, "we don't walk our streets carrying weapons only, and Tripoli is not a war zone. I consider my video an achievement because I was able to get my thoughts out and to defend freedom of speech in a city where some think that fire is louder than education."
"I like to think that I proved them wrong."
However, how is one expected to believe that a short video and a passionate voice like Heba Rachrach's will make a difference in a world of Great Games where morality is absent? "It is with little rain drops that a big lake is filled," Heba replied. And it is with a timid step that Sir Edmund Hillary and Sherpa Tensing started their ascent to Mount Everest sixty years ago, one might add.
Thanks to Heba Rachrach, an alternative narrative from Tripoli finally has a voice. There is courage and love in the most desperate places.
Stop the violence in Tripoli. This beautiful city deserves better.