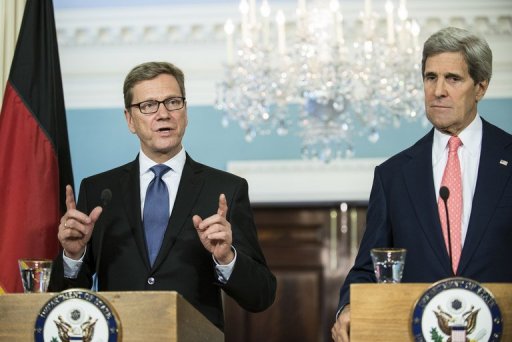 Last updated: 1 June, 2013
US slams Russia over Syria arms deal
US Secretary of State John Kerry has strongly condemned Russia's pledge to sell an advanced missile system to Damascus, questioning Moscow's commitment to end the Syrian conflict, as concern grew for civilians trapped in the battle for a key Syrian town.
Speaking from Washington, Kerry warned that the planned delivery of S-300 air defence missiles to Damascus was "not helpful" as the US and Russia pressed on with their joint efforts to set up a peace conference, dubbed Geneva 2, to try to end the Syrian conflict.
Kerry said the delivery would have a "profoundly negative impact on the balance of interests and the stability of the region, and it does put Israel at risk".
It is "not helpful to have the S-300 transferred to the region while you are trying to organise this peace and create peace," he added, questioning whether Russia was fully committed to ending Syria's two-year-old conflict.
German Foreign Minister Guido Westerwelle, in Washington for talks with Kerry, also appealed to Russia to consider.
"I would like to make this absolutely clear. We tell our Russian colleagues, don't endanger the conference in Geneva," he said.
"The delivery of weapons to the Assad regime is totally wrong," he said.
In a television interview broadcast Thursday, Syrian President Bashar al-Assad appeared to imply that Russia had already started to deliver sophisticated S-300 missile systems under a contract with Syria.
Russia's Vedomosti and Kommersant newspapers said Moscow might not deliver the missiles this year, rejecting claims they had already arrived.
Russian news agency Interfax reported that Moscow could supply 10 ultra-modern MiG-29 fighter jets to Syria under a possible contract being discussed with Damascus.
Syrian troops and Hezbollah allies meanwhile pressed ahead with their assault on the strategic town of Qusayr as hundreds of rebels reportedly broke through army lines to join the battle.
The Syrian opposition said Friday that hundreds of rebel reinforcements, most of them close to the Muslim Brotherhood, had now reached Qusayr.
"Around 1,000 fighters from across Syria" had penetrated the town near the Lebanese border, the National Coalition's interim leader George Sabra told reporters in Istanbul.
"Hundreds" of rebels have broken through army lines near the village of Shamsinn, northeast of Qusayr, after losing 11 fighters, according to Rami Abdel Rahman, head of the Syrian Observatory for Human Rights.
The Coalition has appealed for the rescue of 1,000 civilians wounded in Qusayr, which Assad's forces have been trying to retake in an all-out offensive since May 19.
Thousands of people who have fled the besieged town are in dire need of aid, the UN's refugee agency said, as its tally for Syrians who have escaped their war-torn nation topped 1.6 million.
UNHCR spokesman Dan McNorton told reporters that at least 3,500 people — mostly women and children — had made it to nearby Hasiya.
The agency was able "to witness the dire humanitarian situation of these displaced families", he said.
In Geneva, doctors from the Union of Syrian Medical Relief Organisations told AFP its members had seen "dozens of cases" of patients suffering from what they believe are chemical weapons attacks, mostly civilians.
The numbers of such cases seemed to be rising, said Tawfik Chamaa, a founding member of the UOSSM.
President Bashar al-Assad, meanwhile, said he was "very confident" of victory, in the interview with Hezbollah's Al-Manar television on Thursday.
Assad, whose forces are battling alongside fighters from Lebanon's Shiite movement Hezbollah to recapture Qusayr, said his regime would defeat the revolt which has raged since March 2011 at an estimated cost of more than 94,000 lives.
Syrian state television said troops and Hezbollah fighters captured the northern district of Arjun in Qusayr on Thursday, leaving rebels little chance to escape.
The EU on Friday formally waived the arms embargo against rebels, leaving members free from June 1 to decide at their discretion whether to supply carefully vetted weapons to the opposition.
But there was a joint commitment to refrain for the moment from supplying weapons for fear of endangering the Geneva 2 talks, with a review of that policy due "before August 1".
In New York, the UN Security Council added rebel Islamist group Al-Nusra Front to its global sanctions list because of its links to Al-Qaeda, making it subject to an international assets freeze and arms embargo.
On the ground, the Observatory reported that Syrian troops had killed three Westerners, including a US woman and a British man, both Muslims, near the border with Turkey on Wednesday.
Both Britain and the US confirmed that one of their nationals had been reported killed.
The Observatory also reported more than 30 prisoners killed in 10 days of clashes between rebels and loyalist forces at the main Aleppo prison, which holds around 4,000 inmates.