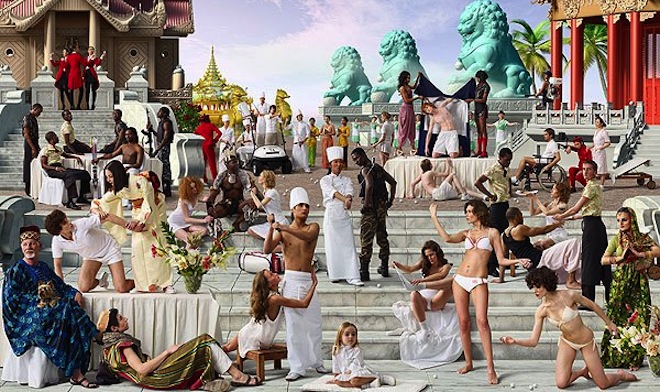 Last updated: 5 June, 2013
Tel Aviv – bubble of art and creativity
More modern than Jerusalem and resolutely free spirited, Tel Aviv hosts the Israeli intelligentsia and a bunch of very motivated young art aficionados. Eva Kirilof has met one of them.
Tel Aviv is an exciting and adventurous playground for all its new western immigrants, who decided to settle down in the Holy Land. The city is often criticized for its lack of concern towards the rest of the country and the tense political situation of her neighbors, which earned her the delicate nickname the Bubble. Far from being hermetic to talent, this bubble bursts with creativity, with one of the most dynamic contemporary art scenes in the Middle East.
When he arrived in Israel seven years ago Jay M. Shulz, one of the founders of the Tel Aviv Art Council, observed that a community uniting young internationals was missing.
"I know that community is crucial for new immigrants," he said. With a BA in History of Art in his pocket and a strong determination to make art accessible to everyone he started to build a young international community. Today that community contains 25 000 members. The Tel Aviv Art Council is one of them.
Their events are attracting people of all kinds and from all horizons
"It is a non-profit volunteer organization, that wants to bring the best of Tel Aviv, Israeli art and culture to the world," proclaims Mr. Shulz, emphasizing the importance of volunteering to build projects such as this.
"Israel has more diversity than anywhere else, it brings a uniqueness, and it created here a very rich and dense cultural environment. Art is a great way to experience Israel," he adds. "Israel is a start-up nation, we are amazing at innovation and creativity in general, the world should know this."
Young patrons of art, like himself, firmly believe in education and in the potential of art and culture to gather people together. Art can be intimidating, especially for young people. That is why one of the missions of the Tel Aviv Art Council is to provide and produce high quality art events, with major cultural institutions in the city such as the Tel Aviv Art Museum, The Fresh Paint Art Fair, The Shenkar College of Engineering and Design, The Cinemateque, Design Space, The Batsheva Dance Company and many other.
ALSO READ Discovering Tintin and 70s Baghdad
The aim is to create a bridge between young people and art and connect them in a playful and laid back atmosphere. Mr Shulz underlined that they are looking to introduce people not only to contemporary art forms and artists, but also to older institutions to dig deeper into the Israeli heritage.
For the opening of the 6th Fresh Paint Contemporary Art Fair, they presented a private lecture with Russian/Israeli Artist, Evgeny Svyatsky from the leading Contemporary Art Group in Russia, AES+F. This Moscow based group works with different media such as sculpture, video and painting, but focuses mainly on photography. They like manipulating images, offering surrealistic and futuristic visions. It makes you think of David Lachapelle's art minus the "Bling Bling" touch and with a nicer sense of aesthetic and a political dimension.
According to its co-founder, the Tel Aviv Art Council alternate between popular and more targeted events, giving them legitimacy in both worlds. They carefully chose their collaborations, always trying to renew themselves and bring innovation in the layout and organization of their events, making the audience part of the experience and offering them the opportunity to interact with the art and the artist.
Their events are attracting people of all kinds and from all horizons, constituting a melting pot that represents the White City so well. They propose an alternative and cutting edge platform dedicated to art events, with a friendly, professional and enthusiastic touch. Their great idea lies in the fact that they make a culture and its codes accessible to non-Hebrew speakers.
Tel Aviv might be disconnected from reality at times, but there is no doubt that it is a propitious place to develop an energetic contemporary art scene. More modern than Jerusalem and resolutely free spirited, the city hosts the Israeli intelligentsia and a bunch of very motivated young art aficionados. Bringing awareness regarding art might in fact be a way to establish a cross-cultural dialogue.
EDITOR'S PICK Naava Mashiah: Denial of reality in the cafés of Tel Aviv