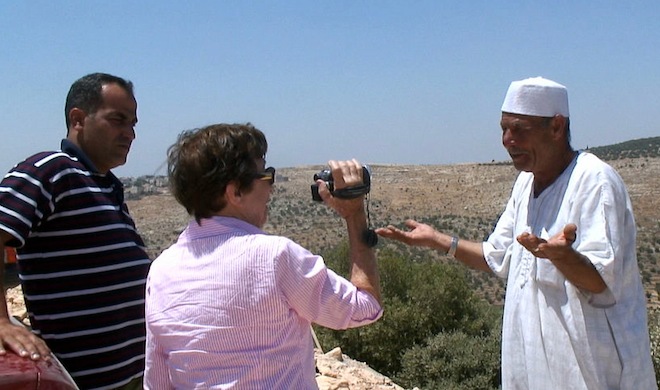 Last updated: 11 June, 2013
Documentary: Living through Zionism
From oblivion to activism, 85-year old Dalia Golomb ultimately made a choice to fight for freedom and dignity. Yermi Brenner shadowed her with his camera.
Few people have had a life as intertwined with the Zionist mission as Dalia Golomb. Born 1927 to a family deeply engaged in the building of the Jewish state, Dalia has seen it all – independence, wars, peace, more wars – and today, at age 85, she devotes her time to fighting against Israel's occupation of the West Bank.
Her parents were Russians who immigrated to Mandatory Palestine in the beginning of the century, as part of a massive influx of Jews who were escaping anti-Semitic violence. Dalia's mother, Ada, is the sister of Moshe Sharett, who went on to be Israel's second Prime Minister. Eliyahu Golomb, Dalia's father, was a prominent figure in developing the Haganah, a Jewish military organization that fought to defend Zionist goals. The house Dalia was born in – on Rothschild Boulevard, at the heart of Tel Aviv – was converted to a museum commemorating the Haganah, and still stands today.
OPINION Alfred G. Gerteiny: Political Zionism's collateral damage
In 1931, when Dalia was four years old, the British census counted 174,606 Jewish people in Mandatory Palestine, amounting to 17 percent of the populace. By her seventeenth birthday – shortly after the United Nations General Assembly approved a resolution dividing the land of Palestine – Jews accounted to 33 percent of population.
She has been visiting the West Bank several times a week to document the checkpoints
During the 1948 war, in which Israel gained its independence, Dalia was living in a Hamadia, a kibbutz located near the Sea of Galilee. Hamadia, like today's Jewish Settlements in the West Bank, was created in order to take over a territory and expand Israel's borders. The kibbutz was named after its neighbor, the village Al-Hamidiyya, which until the 1948 war was inhabited by Palestinians.
In the 50's Dalia married Asher Yadlin, who would later become an important politician in HaHavoda, the left-wing Workers Party, which controlled Israeli politics until the late 1970's. The couple relocated to Tel Aviv in 1956, and had two children and four grandchildren, all of which later served in the Israeli military.
For years Dalia worked educating children, mostly as a music teacher. She was not in any way indulged in politics or activism. Her country was in constant conflict with its neighbors – Six Days War (1967), Yom Kippur War (1973), Lebanon War (1982) – and Dalia had little to no interaction with Arabs.
After Israel conquered the West Bank and Gaza in the 1967 war, Dalia – like many Israelis – toured both regions, and rejoiced the heroic land grab, without taking into consideration the implications.
Thirty-six years and two Intifadas later, Dalia made her second visit to the Palestinian Territories. It was 2003 and one of her friends, who had been volunteering for Machsom Watch – a group of Israeli women who observe and document human rights abuses in the West Bank – convinced Dalia to come along to Huwwara Checkpoint, outside Nablus.
ALSO READ "Çapulcu" generation shakes political culture in Turkey
That day, Dalia saw Palestinians, on their way to work, standing hours in line in order to pass an inspection by the Israeli military. She witnessed women, children and people her age – she was 76 at the time –crowded like cattle between barbwire fence barriers, while young, recently-out-of-high-school soldiers, order them around without any dignity or respect.
Until that day, Dalia had no clue what life was like for Palestinians living under Israeli military occupation. She knew there were problems, but from within the Tel Aviv bubble she was disconnected from the on-the-ground reality of the West Bank.
The visit to Huwwara Checkpoint left Dalia feeling she needs to act in order for fellow Israelis to become aware of what's going on.
Since that day, she has been visiting the West Bank several times a week to document the checkpoints. She wants Israelis to know what's being done in their name, by their military. Her reports – along with the reports of other Machson Watch women – are published on the group's website. In 2008, she began using a small video camera during her visits to the West Bank. She learned how to film and interview and upload the material on YouTube. Every week she adds another short clip to her YouTube channel.
On June 6th 2012, the day that marked 45 years to Israel's occupation of the West Bank, Dalia visited the Palestinian village Kafr Dik, in order to hear from locals about their daily lives. I shadowed Dalia that day and produced a 20 minute documentary – named 'Documenting Occupation' – that offers a glimpse into lives of Palestinians under occupation as well as to Dalia's thoughts and feelings about the situation.
EDITOR'S PICK Mosques, churches and hummus in Ramla