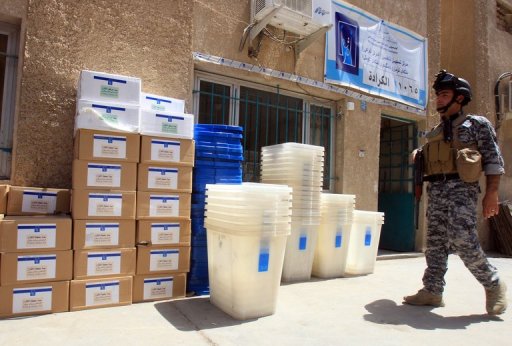 Last updated: 21 June, 2013
Suicide bomber kills three at Iraqi vote count
A suicide bomber killed three people at a vote counting centre west of Baghdad after polls closed in provincial elections but did not damage any ballots, officials said on Friday.
At around 9:00 pm (1800 GMT) on Thursday, a militant dressed as a policeman walked into the main vote counting office in Anbar provincial capital Ramadi and blew himself up, security, medical and election officials said.
The attack killed three people and wounded seven, the officials said. Election workers were getting ready to have dinner at the time, police Colonel Jabbar al-Dulaimi said.
No ballots were damaged as the count had not yet begun, the head of the local office of Iraq's electoral commission, Khaled Rijab, said.
Anbar was one of two Sunni-majority provinces, with Nineveh in the north, that held elections on Thursday, two months after most of the rest of the country, because of security concerns.
The evening bombing was the deadliest of several polling day attacks in Anbar and Nineveh.
Two policemen were killed by mortar fire in Ramadi, while four soldiers were wounded by mortar rounds and roadside bombs in and around Nineveh capital Mosul.
Authorities put tight security measures in place in the two provinces, where nine candidates were killed in the run-up to the vote, according to the United Nations.
Provincial councils are responsible for nominating governors who take charge of the provinces' administration, finances and reconstruction, and have sway over key local issues such as sewerage and other services.