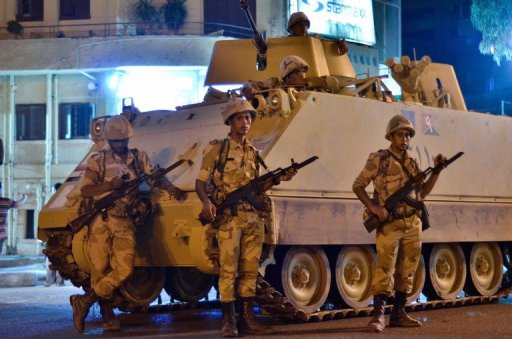 Last updated: 4 July, 2013
West calls for elections after Egypt's Morsi ousted
World powers hedged their bets Thursday after the Egyptian military ousted president Mohamed Morsi, with calls for a return to democracy offset by a lack of condemnation of the overthrow of the Islamist leader.
The United States and European Union both indicated that aid to Egypt would not immediately be affected while Russia and China hinted that they viewed events there as a popular uprising rather than a coup.
Middle Eastern governments meanwhile welcomed the toppling of Morsi on Wednesday after days of bloody protests, with war-hit Syria hailing the "great achievement" but others fearing that the unrest could spread.
US President Barack Obama said Egypt's future "can only be determined by the Egyptian people" but added that he was "deeply concerned by the decision of the Egyptian armed forces to remove president Morsi and suspend the Egyptian constitution".
He ordered a review of aid to Egypt, a pivotal ally which receives $1.3 billion in annual US military assistance, but the statement fell short of condemning the army in what a US official told AFP was a bid to strike a balanced tone.
UN chief Ban Ki-moon urged a return to civilian rule in Egypt, saying it "should be resumed as soon as possible".
Europe found itself divided on how to react to the departure of a second Egyptian president in the space of two years and yet another crisis on the other side of the Mediterranean.
Britain, the former colonial power in Egypt, took the most pragmatic stance and said it was ready to work with the country's interim rulers despite disapproving of any military role in the democratic process.
"We will always be clear that we don't support military intervention but we will work with people in authority in Egypt. That is the practical reality of foreign policy," foreign minister William Hague said.
French President Francois Hollande said every effort should be made to revive the democratic process.
"Now what counts is that the army, which took responsibility for deposing the president… organises free and fair elections as soon as possible," Hollande said during a joint news conference with his Tunisian counterpart, Moncef Marzouki.
Marzouki, for his part, ruled out the risk of elected authorities being deposed in Islamist-ruled Tunisia, the birthplace of the Arab Spring uprisings, but warned of a need to "pay attention" to popular demands.
But Germany took a far stronger line than other European nations with Foreign Minister Guido Westerwelle describing Morsi's ouster as a "major setback for democracy in Egypt".
The European Union itself gave a more tepid response to the crisis in a country where it sent around one billion euros in aid between 2007 and 2013.
EU foreign policy chief Catherine Ashton made no condemnation of the army, saying only that she was "fully aware of the deep divisions in society" in Egypt and urging all sides to "rapidly return to the democratic process".
A European Commission spokesman said later: "I'm not aware of any urgent plans to rethink our aid programmes at the moment."
The Egyptian army toppled Morsi on Wednesday after a week of bloodshed that killed nearly 50 people as millions took to the streets, just a year after he took power and two years after the fall of president Hosni Mubarak.
Top judge Adly Mansour was sworn in on Thursday as temporary president.
Russia called on all Egyptian political forces to "exercise restraint" but again offered no condemnation. Russia has long had friendly ties with Egypt.
China, traditionally wary of intervention in the internal affairs of other nations, said it supported the "choice of the Egyptian people" and called for dialogue but did not elaborate.
Regional reaction to the overthrow of Morsi was sharply divided in a reflection of the tense ties between many governments and the Muslim Brotherhood organisation from which Morsi hails.
Turkey, where Prime Minister Recep Tayyip Erdogan and his Islamist-rooted party faced down mass protests last month, said the events in Egypt were undemocratic.
"The power change in Egypt was not a result of the will of the people. The change was not in compliance with democracy and law," Deputy Prime Minister Bekir Bozdag said.
But Syria's embattled government revelled in the downfall of Morsi, hailing it as a "great achievement." President Bashar Al-Assad has been fighting a three-year battle against rebels that Damascus is keen to portray as dominated by radical Islamists.
Palestinian president Mahmud Abbas congratulated the interim Egyptian leader, as did Iraqi Prime Minister Nuri al-Maliki, whose country is still gripped by violence 10 years after the US-led invasion.
Saudi King Abdullah also praised the army's intervention, as did the oil-rich United Arab Emirates, while Gulf monarchies Bahrain and Kuwait sent messages of congratulations to Mansour.
Israel maintained silence on the events in Egypt, with which it signed a peace treaty in 1979 but has had strained ties.
Meanwhile Nigeria criticised the coup as a "truncation of the aspirations of the Egyptian people" and a blow to democratic advances in Africa.