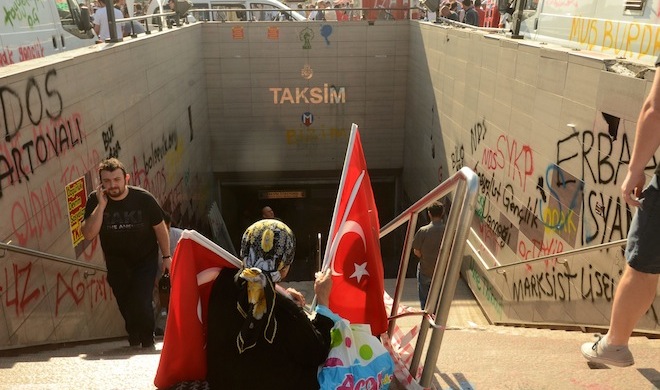 Last updated: 7 July, 2013
Unrest continues to interrupt life in Istanbul
"Istiklal, normally the scene of wild parties and late-night shopping on Saturday nights, is filled with fearful bystanders jumping at the sound of exploding tear canisters," reports John Last.
All of Istanbul's central Beyoglu district was in chaos again on July 6, after protesters attempting to march on Taksim Square were met with heavy police intervention.
If there is a new policy against indiscriminate tear gassing, it certainly wasn't in effect. Police waged minor street battles with protesters in side streets, firing countless rounds of tear gas as hardcore demonstrators responded with bottles and rocks.
Saturday's demonstrations were an attempt by Taksim Platform, the organization to emerge from last month's Gezi Park protests, to push police out of the park, which has been the centre of the anti-government protests for over 20 days.
The park remains occupied by police more than a month after a court decision rejecting government proposals to construct a shopping mall and historic barracks over one of Istanbul's last green spaces.
ALSO READ Timothy Cooper: Turkey's sociable unrest
A brutal police clearance that saw hundreds injured and medical staff, children, and elderly gassed and detained ended an Occupy-style protest in the park. Sympathy protests against the government of Prime Minister Recep Tayyip Erdogan and his Justice and Development Party (AKP) continue across the country, often met with the same indiscriminate police violence.
The Interior Minister has called the interventions "normal," but Istiklal, normally the scene of wild parties and late-night shopping on Saturday nights, is filled with fearful bystanders jumping at the sound of exploding tear canisters.
From Taksim Square, which is completely cut off from the public by riot police, to Galatasary Tower, at the end of Istiklal Avenue, is being patrolled by small groups of police firing gas into side streets.
The operation, despite pushing protesters further and further off of the main avenue, would eventually have had to end in indiscriminate police violence if it was to have any effect. By midnight, a regrouped attempt to march on Taksim was held back by TOMA crowd control tanks, but though protest numbers dwindled, dedicated demonstrators continued to assault police as they retreated back to the square.
ALSO READ Instagramming the Gezi Diaries
Istanbul's Beyoglu neighbourhood is a network of densely packed winding streets, which provide perfect escape routes for protesters. Businesses and local residents, ostensibly with their doors and windows shuttered, sheltered protesters fleeing gas. The Istanbul Bar Association, a longtime critic of Erdogan's government, provided medical aid in their Beyoglu office, and countless heavy iron gates from Ottoman days guarded escapees from riot tanks turning down side streets.
Next to the Pera Muzesi, where a small covered souk connects Istiklal Avenue to the adjacent Tarlabasi road, a fierce battle was fought between stone throwers and police, filling the mall with clouds of gas. Cars and cabs on Beyoglu's non-pedestrianized roads were caught up in the smoke as protesters tried to direct them through throngs of people.
Two streets over from one of upper Istiklal's most fierce battles, bars overflowed with patrons enjoying beer on a street just recently subjected to the attentions of a TOMA tank.
Saturday was supposed to be a quiet night of jazz in Beyoglu, as the Istanbul Jazz Festival staged its "festival within a festival," the Tunel Concerts. Near Galatasaray Tower, some people were trying to revive the spirit, playing jazz in Beyoglu's myriad music shops.
Protesters had warned that they would occupy the park by Sunday when the interior minister said it would be reopened to the public, regardless of the police presence.
EDITOR'S PICK "Çapulcu" generation shakes political culture in Turkey