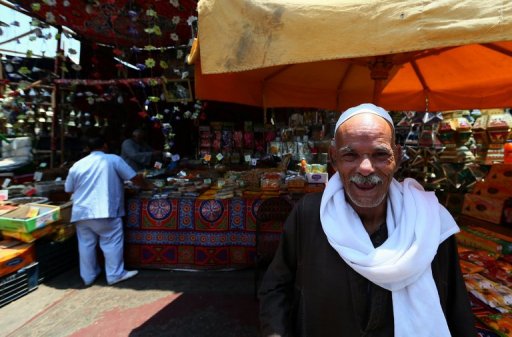 Last updated: 11 July, 2013
Anger and uncertainty for Egyptians in Ramadan
The people of Egypt are marking the Muslim fasting month of Ramadan amid soaring tensions following last week's ouster by the military of Islamist president Mohamed Morsi.
"This year there is not the usual feeling of happiness. We are worried," said Fawziya, as she shopped in a Cairo market.
Lanterns and banners usually festoon the capital's streets during the holy month, as the markets bustle with business and families go out after iftar, the traditional evening meal when believers break their daily fast.
But mass protests and deadly unrest, culminating on Monday when 53 people, mostly Morsi supporters, were killed in clashes between the army and the Muslim Brotherhood, have changed everything.
"It's the first time in my life that Ramadan is like this. I don't feel anything at all," said one middle-aged man in Cairo's Sayeda Zeinab district.
Fawziya agreed, blaming the political upheaval of recent days for poisoning the festivities.
"We always used to go out," said the 41-year-old mother of four.
"But because of the protests, the violence and the Muslim Brotherhood, we feel it's not safe now. There is this feeling of uncertainty."
Reflecting the uncertainty gripping Egypt, tens of thousands of Islamist protesters gathered for evening prayers on Wednesday, after the first day of fasting, at the Rabaa al-Adawiya mosque in Cairo's Nasr City, where many are camped out with no plans to leave.
One of them, Ahmed, dismissed talk of political upheaval and the army's ouster of their elected president ruining their religious holiday, insisting the Islamists drew strength from the sacred occasion.
"When (Egyptian army chief General Abdel Fattah) al-Sisi said 'He is no longer your president' there was great sadness. But now we are full of very strong feeling. We believe he will return, God willing. We are sure," said the 26-year-old medic.
There had been speculation that with the stifling summer heat and the pace of life slowing down during Ramadan, the ousted president's supporters would end their protest and return home.
But as one Morsi loyalist said, "we will stay here until the end… either until the president's return or martyrdom".
Morsi's downfall came after days of massive protests by ordinary Egyptians who accused him of concentrating power in Islamist hands and failing to fix Egypt's economy, which has nosedived since the 2011 revolution ousted veteran strongman Hosni Mubarak.
In the Sayeda Zeinab market, vendors complain bitterly about the collapse in trade caused by the latest unrest and the Muslim Brotherhood's mismanagement of the economy.
"In previous Ramadans… we were always busy. Nowadays, you can see, there is no one in the market," said Hussein al-Rasheed, who sells dates traditionally eaten by Muslims when they break their fast.
"It's because of the Muslim Brotherhood. They are liars. I voted for Morsi in the (2012) elections because I thought he was going to be better than (rival presidential candidate) Ahmed Shafiq. But he was worse than all of them."
Mohamed, 28, sells lanterns, which normally fly off the shelf in Cairo in the run-up to Ramadan.
He says this year he has not even sold half of what he normally would, blaming the demonstrations and the sharp rise in food prices.
"Food is a priority and because it's so expensive, people cannot afford lanterns."
Nearby, a vegetable vendor was furious at the lack of business, cursing the Doha-based Al-Jazeera news channel which many Egyptians accuse of giving overly sympathetic coverage of the Muslim Brotherhood.
"For ten days I didn't sell anything," he shouted.