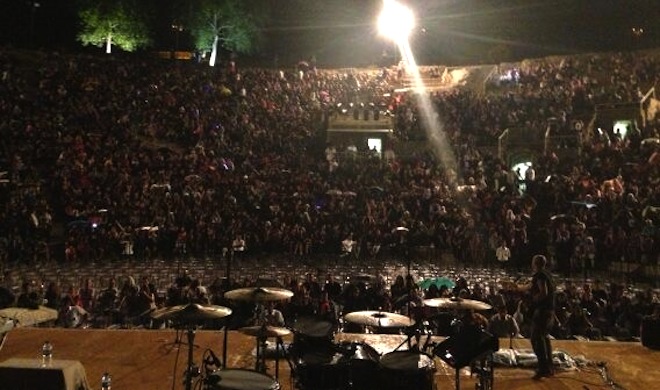 Last updated: 14 July, 2013
American stars shake up Tunisia during Ramadan
Over 30 degrees celsius and raindrops falling. This is the paradox of a mid-summer evening in Carthage, Tunisia. The wealthy suburb is host to the 49th edition of its annual music festival, and tonight we are in for a big treat; pop stars coming all the way from America. Tunisia is the first regional stop for One Republic, the band behind hits such as Apologize and Good Life. Next up is chic Lebanon. One Republic arrives during Ramadan, a holy month symbolized by serenity and calm. Yet the young crowd welcomed the band with sparkling energy.
Songwriter and lead singer Ryan Tedder even spoke of Hannibal and danced with the intensity of a true Carthage soldier. Teenage girls shouted at their heroes as they shook the beautiful amphitheater that has hosted artists from all over the world. One Republic paid tribute to one of them; the great Ray Charles with a cover of his smash hit "I got a woman".
It was an extraordinary setting; the somewhat refreshing rain eventually let go of the ancient site, but it was a close call. The audience offered their umbrellas so organizers could adjust them over the instruments. This was an intimate gig, and just like Tedder said before setting off with Good Life, "I would rather be here in Tunisia than anywhere else on earth, right now."
The performance, however, was far away from the "good life" in a post-revolutionary Tunisia struggling to find its way forward. Carthage, like neighboring La Marsa, is only 15 minutes drive from the center of the capital, yet, both seem vastly distant from life in other parts of the city.
As we drive through Sidi Bou Said at 1am, having experienced the uplifting spirit of Carthage's festival, there is another party taking place. In the roundabout, hundreds have gathered in song in front of the local mosque. The festive atmosphere is all over. Ramadan is a time for celebration of life and community – whether it comes in the form of hip Tunisian youth cheering American pop stars or the timeless strength of religious belonging.