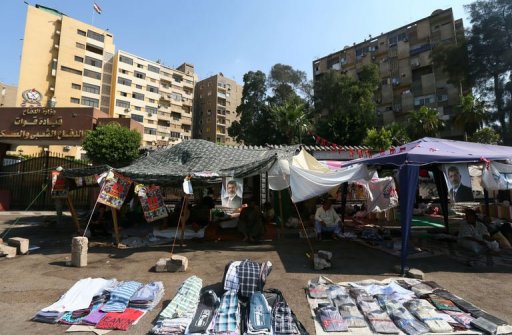 Last updated: 21 July, 2013
Cairo Islamist camp angers residents
As thousands of Islamists massed for a third week at Cairo's Rabaa al-Adawiya square, residents were beginning to lose patience with ousted president Mohamed Morsi's supporters camped on their doorsteps.
In the neighbourhood of Nasr City, where the hot summer winds whip up the dust during the day, traffic grinds to a halt ahead of Rabaa al-Adawiya square and its mosque.
Three weeks ago, tens of thousands of Morsi supporters flooded into the area and occupied it to demand his reinstatement.
They have been there ever since, and the square, decorated with pictures of the ousted president, now seems like a village market, with vegetable stalls, flag sellers and rest areas all catering to the crowds.
Under a sweltering July sun, many take refuge in the shade, sleeping or reading the Koran before the evening's iftar, when together they break the Ramadan fast.
In the so-called press centre, behind the stage where speakers spout rabble-rousing speeches, Farid Ismail, an official from Morsi's Muslim Brotherhood, insists that those gathered around the mosque are not going anywhere.
"We've stayed here for three weeks now, 21 days, and we will continue in this way, with this peaceful resistance," he said.
But he does admit there has been some friction with residents.
"Of course this large crowd in this place affects the residents of this area," he said. "We are working to remedy the problems."
Some of those living around Rabaa al-Adawiya have taken a dim view of the protesters, a significant number of whom are camped on the small grass squares outside their apartment blocks.
On Saturday morning an energetic clean-up operation was under way, after a residents' statement voiced anger at the disruption.
Mindful of its image, the Brotherhood's political wing, the Freedom and Justice Party, through its media relations outfit, offered "sincere apologies" for the disturbance.
It said protesters had been told to keep the place tidy and promised to turn down loudspeakers after midnight.
But Mohsen Fahmy, a bank manager who works nearby, could not hide his irritation.
"The situation is very bad now. For 17 days there have been about 20,000 people, strangers to the place, who have no apartments, nowhere to go to the toilet," he said.
Fahmy said those camping out in the area were dumping rubbish around the square and in the side streets.
The protesters have also set up checkpoints, where they examine residents' ID cards and bags as they come and go.
"They have no right to act like this," he said.
Many of the area's temporary residents were bused in to Rabaa al-Adawiya from provinces outside Cairo.
"They are paid to stay. They come with their women and their children. They have no idea" about the problems they are creating, Fahmy said.
Munir, a member of Egypt's Coptic Christian community who runs a pharmacy near the protest hub, said the demonstration was hitting his business.
"Personally I want them to go, because I want my livelihood back," he said.
While some demonstrators come to him to buy medication, Munir says the companies that deliver his supplies are struggling to reach his shop because the streets are blocked.
His delivery boys, who drop prescriptions off to customers by scooter, are also finding it difficult to get around because of checkpoints set up by the army and the protesters.
Ismail, the Brotherhood official, conceded that there have been some problems with residents, but he countered that "many of them support this 'revolution'."
Dr Hazem Farouk is one sympathetic resident.
"We have a problem here," he admitted, pointing to the closed roads.
"But as Egyptian people, we are searching for our dignity. It is a matter of dignity" to continue the protests, he said.
But as the Muslim Brotherhood risks becoming ever more marginalised by Egypt's interim government, by rejecting its legitimacy, so the protesters camping at Rabaa al-Adawiya increasingly risk losing the goodwill of their neighbours.