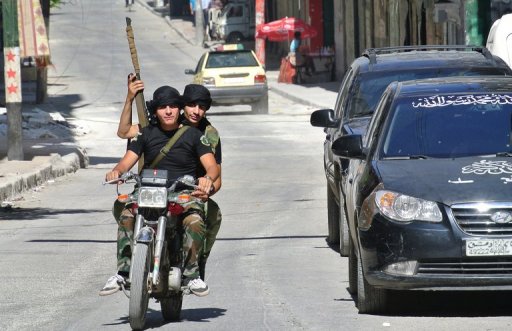 Last updated: 6 August, 2013
Syrian rebels overrun key Aleppo air base
A car bomb killed 18 people in a mainly Christian and Druze suburb of Damascus on Tuesday as rebels seized a key northern air base after a series of reverses.
The rebels' capture of the Minnigh base in Aleppo province came after they overran villages in Latakia province, heartland of President Bashar al-Assad's Alawite sect, and marked a turnaround after the loss of two strongholds.
Tuesday evening's bombing was the latest in a spate of attacks to hit the southeastern suburb of Jaramana and also wounded 56 people, state media said.
Three childrten were among the dead.
The explosion struck at around 7:15 pm (1615 GMT), when traffic was heavy as Muslims headed home for the iftar meal that breaks the daylight fast observed during the holy month of Ramadan.
State television aired footage of wrecked shopfronts around the square and dozens of burned out vehicles.
A similar bombing in the same square on July 25 killed at least seven people and wounded more than 60.
In August last year, another car bomb killed at least 27 people in the southeastern suburb.
Syria's Christian and Druze minorities have mostly sought to remain neutral in the conflict wracking the country since March 2011.
But many hardline Islamists suspect them of loyalty to Assad's government.
Fighters loyal to Al-Qaeda played a major role in the capture of the Minnigh air base, which lies north of Aleppo city, near the Turkish border.
"The Islamic State of Iraq and the Levant (ISIS, an Al-Qaeda front organisation) and other opposition groups took total control at dawn today of Minnigh air base," the Syrian Observatory for Human Rights said.
State television cited a source it did not identify as saying: "The airport in question is empty of all military apparatus and planes, and is not in use."
Analysts say rebels are trying to clear the north of remaining regime positions, even as the army is attempting to drive them out of the country's centre.
This would presage a possible division of Syria into rebel and regime-held areas, while the Kurds are trying to set up an autonomous area in parts of the north.
The Britain-based Observatory and analysts said advances in the north, and in the coastal province of Latakia, were largely a result of cooperation between jihadist and other rebel groups, often at loggerheads despite sharing the goal of toppling Assad.
"The victory again underlines the leading strategic impact being played by militant Islamists, particularly in northern Syria," said London-based Charles Lister of IHS Jane's Terrorism and Insurgency Centre.
Lister described the base's capture as a "morale boost" for jihadists and for rebels as a whole.
As the battle for Minnigh entered its final hours, regime forces launched air attacks on several rebel-held towns in Aleppo's countryside, the Observatory said.
And army shelling of a market in Aleppo city's opposition-held Sukkari neighbourhood killed at least five people, including two children, the Observatory said.
"These were revenge attacks… The only means the regime has at its disposal is the shelling of civilian targets from far away," said Yehya Naanaa, who heads Aleppo province's opposition council.
Elsewhere, at least 13 fighters of Al-Nusra Front, another Al-Qaeda affiliated rebel group, were killed in a counter-attack on an arms depot seized by rebels two days ago in Qalamun near Damascus, the Observatory said.
And rebels pressed an advance in the mountains of Latakia, the watchdog added.
In what Observatory director Rami Abdel Rahman described as a "clear advance," local fighters and the two jihadist factions overran 11 villages in three days.
A security source played down the rebel gains, saying only two villages remain in rebel hands after the army counter-attacked.
Meanwhile, Rome said that Father Paolo Dall'Oglio, an Italian Jesuit who had hoped to negotiate with the jihadists, has "apparently been kidnapped" in Syria.
Dall'Oglio had reportedly gone to meet with ISIS commanders last week to try to negotiate peace between Kurdish fighters and jihadists and plead for the release of activists kidnapped by the group.
A Syrian security source said Al-Nusra's chief for Damascus and two deputies had been arrested over attacks in the capital, including one that killed five people and wounded Interior Minister Mohammad Ibrahim al-Shaar and 23 other people in December.