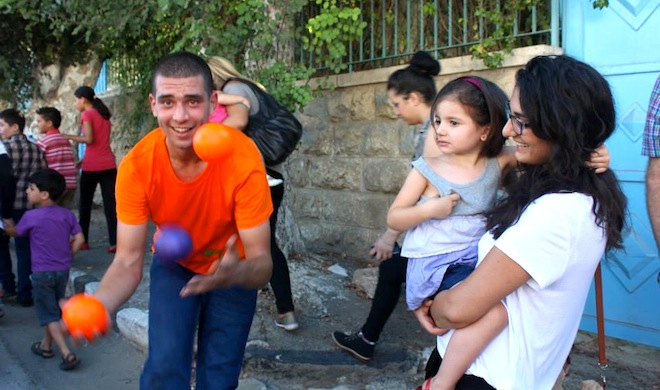 Last updated: 4 September, 2013
A political circus: Palestinians creative about life behind the Wall
"Politics disguised as entertainment," some say. The Palestinian Circus School is a small but unique institution. It's helping young people believe in their future, learning them to trust others and feel more self-confident. Carl Stellweg reports.
It's a typical spring day. The sky's an innocent blue. On such a day even Jenin shows a conciliatory face. Strolling along the multi-coloured merchandise of its shopkeepers, it's hard to imagine the town was once known as the world capital of suicide terrorism.
Not all traces of fruitless heroism have vanished, though. They're still there, the pictures of young martyrs, automatic rifles slung over their shoulders, the Dome of the Rock Mosque as a golden beacon in the background. They've not disappeared, the slogans singing the praises of a brutalized homeland. But they're faded and have made way for ordinary people's activities: stalls selling little clocks and cuddly toys, barrows laden with fruit.
To add to this feeling of spring and promise of a normal life, the Palestinian Circus School has arrived.
At the entrance of the cinema where this exceptional ensemble will perform, cheerful youngsters, timid families and a solitary elderly gentleman gather in the gentle evening twilight. They offer a movingly relaxed, even hopeful sight.
Through her tears a proud smile appears
But nothing in Palestine is carefree, without implications or political meaning. What is offered is not a traditional circus. No monkeys on tricycles or dogs in skirts, no mediocre clowns or MCs uttering worn out phrases. The performance is a mixture of acrobatics and movement theatre by four energetic young men. At times funny, frequently sparkling – but above all a story without words, the symbolism of which is tellingly accessible to the local audience.
With the help of just a balance beam, a trapeze mast and some props, a fight for domination and possession is depicted. Humour is never far away, but the underlying grimness becomes clear also from the title Kol Saber, meaning: 'eat the cactus'. Or: 'eat patience'. In other words: 'like it or lump it' – a sentiment all too familiar to Palestinians.
"This was politics, disguised as entertainment," the solitary gentleman says, adding smilingly: "That was a pleasant surprise.'' And a middle-aged mother of four: "Our whole story was in it, our struggle with the powers that dominate us."
The Palestinian Circus School is a small but unique institution. Founded in 2006, it's headquarters is an Ottoman villa in Bir Zeit. This suburb of Ramallah, hidden high in the hills, is the only place in Palestine where you may see someone pass by on a unicycle. A picture that is matched by the equally fairy tale improbability of the school's history itself. It originated from nothing. There was no circus tradition on the West Bank, there were no attributes. There was just the dream of a couple: the Flemish Jessika Devlieghere and the Palestinian Shadi Zmorrod. The dream even preceded their love: before they fell for each other, they were colleagues wanting to bring the circus to Palestine.
ALSO READ Instagram gallery of Ramallah
Jessika's interest in youth work and her concern with social inequality brought her to Latin America. But when visiting Lebanese refugee camps, she was swept away by the Palestinian saga of expulsion. She grew annoyed, though, with the rigid, sentimental nationalism through which many Palestinians lock themselves up in an idealized past. She wanted to counterbalance this victim culture and discovered 'social' or 'didactic' circus: "The energy with which the past is cherished should be swung around to the future. But you can't believe in the future without self-confidence. To create that in young people living in a negative climate, circus is a perfect tool. Because if you want to be an acrobat or juggler, you need to learn to trust yourself and others: acrobats must, quite literally, never drop each other."
Mutual trust and faith in collaboration are precisely what is missing in Palestinian society. "Inertia rules," says Devlieghere. "The PA has partially sucked dry local organizations, while foreign aid agencies, with all their good intentions, threaten to render the population structurally needy. Then there is the wrecking hatred created by the occupation."
Certainly Jessika's husband Shadi knows about what that occupation does to the psyche. During the second intifada he carried off the injured at checkpoints and once had to stuff back someone's intestines. Ever since there's little that can move him. "I don't jump up instantly when our young son gets hurt. That parent reflex has been robbed from me."
Shadi grew up in East Jerusalem. From the age of twelve he regarded the theatre as his destination and taught himself to juggle. He joined an Arab-Jewish circus initiative, but was put off by the hypocritical mixture of obligated political neutrality and condescending sympathy for him as a Palestinian. He decided to make circus by Palestinians for Palestinians only. "I could pocket a small fortune in subsidies with some reconciliation project, but that would be a lie," he says. "Exchanges are no use as long as there's so much inequality between our peoples."
ALSO READ Can Palestinians and Israelis unite over the environment?
Shadi moved to Ramallah and met Jessika, who was following a course in Arabic there. Their intention to create a circus met with considerable problems. Shadi refused to give up. "I'm a Palestinian: I always see that tiny light at the end of a tunnel." People with whom he had collaborated in Jerusalem joined him and Jessika. With their own hands they stitched juggling balls and transformed toilet brushes into juggling cones. Foreign coaches rushed to help. All this resulted in a miracle: within weeks 'Circus behind the wall' was performed for an audience of 250 in Ramallah.
The still limited technical ability of the artists was compensated by a compelling story line. The school always had a message, and is often groundbreaking. Jessika and Shadi like to gently push the limits of a conservative society. So in 'Kol Saber', a Naked Man was featured. That is to say, Mohammad Abu Sakha (21) wore longish underpants, and this caused some upheaval. "But listen to this," Mohammed says grinningly. "My father is a very religious man, visits the mosque each morning at five. My mother asked him to stop me from exhibiting myself. Guess what? He refused, saying the story needed it."
Mohammad contends the circus learned him to dig more deeply. "If you ask people here what they want, they say: a car, a house. Nobody says: I want to walk a tightrope. They think it's too difficult. But it's easy." He smiles. "I mean: You can learn it."
It creates a self-esteem that eventually will overcome all the hatred
The school's star shines. Dozens of pupils follow weekly lessons. There have been tours in Belgium, Germany, Egypt, France, Italy. At the same time, lives are unprotected as ever. Hopes can be smashed any time. The light at the end of the tunnel can narrow down to a pinprick – or extinguish. There's still all this vindictiveness. There's fences, walls, roadblocks, checkpoints, watchtowers, and the threat of the paranoid murdering machine that every army on the alert is, not in the least the Israeli one. So what good does a Palestinian Circus School?
The answer may be: it creates a self-esteem that eventually will overcome all the hatred and tragedy.
The house of the late Mohammed Al-Salaymeh in Hebron is a stone hovel in an alley ten meters long and two meters wide. Checkpoints encircle the neighbourhood, clumps of weeds grow from cracks in the wall.
Inside Mohammed's mother serves Seven Up in pretty glasses. She tells me how her sturdy, red haired son got into a quarrel with a soldier at a nearby checkpoint. Another soldier thought she saw he had a weapon and fired six bullets from close range. Mohammed turned out to be unarmed. His father rushed to the checkpoint after hearing what had happened and was beaten by soldiers. A row involving bystanders ensued, teargas and rubber bullets were fired with the boy's corpse lying on the road.
This happened on 12 December last year, on Mohammed's 17th birthday. Hours before his life ended, friends had treated him to a big birthday cake.
Mohammed's mother and I fall silent. I search for words. Suddenly I think of something.
I tell her what I've heard: that he was one of the best pupils of the Palestinian Circus School. Shukran, she says. And through her tears a proud smile appears.
EDITOR'S PICK The untold story of Israeli paradise in Iran?