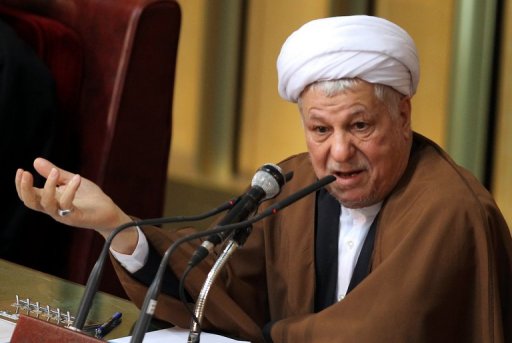 Last updated: 5 September, 2013
Iranian ex-president in row over Syria chemical arms quote
Conservatives in Iran are demanding that former president Akbar Hashemi Rafsanjani respond to allegations he allegedly said Damascus used chemical weapons against civilians, despite denials that he did so.
Tehran, Syria's key regional ally, has echoed claims by Damascus that it was rebels who carried out deadly strikes near the capital on August 21, as Washington and its allies inch towards punitive military action against the regime over the incident.
The issue of chemical weapons is highly sensitive in Iran, which was the target of deadly gas attacks during its 1980-1988 war with Iraq.
The controversy stems from a report by the unofficial ILNA news agency, which quoted the moderate ex-president as saying "the Syrian people who were the target of a chemical attack by the authorities must now face the threat of foreign intervention."
But the agency quickly deleted from the quote the words "by the authorities," and the foreign ministry denied that Rafsanjani had said such a thing.
But several conservative websites also took the opportunity to attack Rafsanjani.
One of them posted a video of a public meeting at which Rafsanjani is alleged to have made the comment. It was not possible to confirm that the speaker on the video, shot from some distance on a mobile phone, was Rafsanjani but the voice sounds like his.
"We are waiting for a denial from Rafsanjani in person and the taking of a clear position," conservative lawmaker Alireza Zakani said, demanding an investigation by the intelligence ministry, the daily Arman reported.
"The clip attributed to Rafsanjani contains inaccurate and dangerous words," he added. "We hope it is fake."
Another conservative MP, Ali Motahari, also called for an explanation, saying "the video seems to be real."
He added that Rafsanjani "perhaps wanted to open another channel" for Iranian diplomacy.
"These words do not mean support for the United States; we still support the Syrian government," the Etemaad newspaper quoted Motahari as saying.
A cleric, Ayatollah Yussef Tabatabaie-nejad, was quoted by Arman as saying he had received assurances that the video was not real.
"I asked the question directly to Rafsanjani and he told me that the sound was fake and that he had not accused the Syrian government of using chemical weapons against civilians," he told Arman.
Rafsanjani reportedly told the ayatollah: "I have said that the United States is using the pretext that the Syrian government attacked civilians with chemical weapons. I said the Americans had said it and that it is not my position".