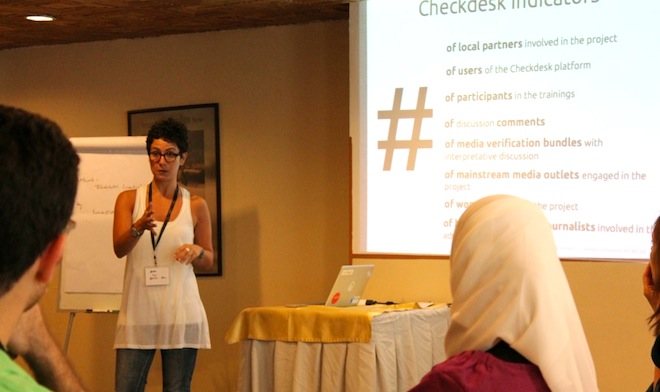 Last updated: 8 September, 2013
Checkdesk: Arabic live blog breaking new ground in MENA
The regional platform Checkdesk promotes citizen journalism and enables newsrooms to professionally utilize the content of social media.
As part of its project entitled 'Middle East Citizen Journalism Project', Meedan launched last July a professional digital platform to promote citizen journalism in the MENA region. The platform, Checkdesk, was developed by Meedan in cooperation with six leading media outlets in the region: Al Masry Al Youm and Welad El Balad Media Services in Egypt, 7iber in Jordan, Nahar Ashabab and Social Media Exchange (SMEX) in Lebanon, Ma'an Network in Palestine, and Al-Ayyam in Syria.
Checkdesk is a live blog that allows citizen journalists to cover events and document their coverage with first account material or with content from online and social media. In addition, it puts citizen journalists in direct contact with newsrooms, and thus the probability for covering citizen-reported issues in major media outlets increases. The platform also promotes the accuracy of reported events, allowing citizen journalists to add materials to support or deny posts of fellow journalists.
The platform promotes the accuracy of reported events
This initiative is the first of its kind in the MENA region, and is supported by the Swedish International Development Agency (SIDA), the Arab Partnership Participation Fund (APPF) and the International Press Institute (IPI). Previously, Meedan launched an alpha version of the live blog with Al Masry Al Youm in Egypt after the Egyptian uprising. The Checkdesk project comes in light of the success of the trial version, and the high rates of penetration it scored, especially at the time of presidential elections last June.
Preparations to launch Checkdesk date back to 2012 when Meedan worked on developing the digital platforms of the live blog, and cooperated with the six media institutions to train citizen journalists to use it. Around 1200 citizen journalists were trained on the basics of citizen journalism and on the proper usage of the live element. The material offered in the trainings was in turn prepared by Birmingham City University.
"Checkdesk is a very important tool for promoting citizen journalism and enabling newsrooms to professionally utilize the content of social media," asserts Dina El Hawary, the Senior Program Manager at Meedan.
Hawary adds that aside from promoting citizen journalism, the key goals of the platform are to train citizens on using digital tools including Checkdesk, facilitating fact-checking and verification of reported events, increasing accuracy and credibility, and finally contributing to a positive change in the journalism field across the region.
To note, Meedan is a non-profit organization whose mission, as stated on its website, "is to promote better informed, more globally-minded culture by designing software and programming that provides opportunities for exchange of ideas and information on the internet, with a focus on Arabic and English speaking online communities."
YOU MAY LIKE The Lebanese media stack