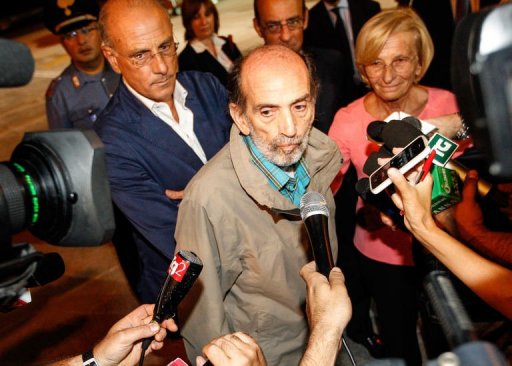 Last updated: 9 September, 2013
Freed Belgian and Italian recount Syria kidnap ordeal
Freed Italian journalist Domenico Quirico and Belgian teacher Pierre Piccinin on Monday said they were beaten, starved and subjected to mock executions during their five-month kidnap ordeal in Syria.
The two men, who were released on Sunday, also said they had overheard their captors talking about rebel involvement in a poison-gas attack, although Quirico said he had no way of verifying that information.
Scant detail has emerged as to how they were released, but Quirico's newspaper La Stampa said Italy's secret services had stepped up efforts to secure their freedom ahead of feared US military strikes.
"These have been very tough months. We were beaten on a daily basis, we suffered two mock executions," Quirico told reporters in Rome's Fiumicino airport before flying to Turin where La Stampa is based.
"I was sold out by the Free Syrian Army, the group that began the revolution and believed in a Syrian society free of the inter-religious dictatorship.
"I am extremely surprised that the United States could think about intervening, knowing very well how the Syrian revolution has become international jihadism — in other words Al-Qaeda," the veteran war correspondent said.
"There needs to be a long period of reflection."
Piccinin told Belgium's Bel RTL radio station that the two had endured "torture" during their captivity.
"There was sometimes real violence … humiliation, bullying, mock executions … Domenico faced two mock executions, with a revolver," he said.
A gaunt and tired-looking Quirico and a heavily bearded Piccinin were seen stepping off an Italian government plane in Rome late on Sunday, shortly after the announcement of their release.
"I have lived for five months as if I was on Mars. I was badly treated and scared," Quirico said after being greeted by Foreign Minister Emma Bonino.
On Monday he met with Prime Minister Enrico Letta and prosecutors in Rome who investigated the kidnapping.
Quirico was quoted by Italy's ANSA news agency as telling the prosecutors that he and Piccinin were stopped by gunmen in two pick-up trucks on April 9.
"The first days we were blindfolded," he said, adding that they were given food once a day at best.
In an article published in La Stampa's online edition, he was also quoted casting doubt on claims made by Piccinin about a conversation they overheard about an alleged rebel role in the use of chemical weapons.
"From a room where we were being held and through a half-open door one day we overheard a conversation in English via Skype involving three people whose identities I do not know," he said.
"In the conversation, they were saying that the gas operation in two suburbs of Damascus was carried out by rebels as a provocation to force the West to intervene militarily," he said.
"I am absolutely not able to say if this conversation was based on real facts or on hearsay," he said.
Piccinin, a history teacher in a southern Belgian town, had claimed the conversation proved that Syrian regime forces were not involved in the attack.
Piccinin said he and Quirico were handed over by the Free Syrian Army to the Abu Ammar brigade, a rebel group "more bandit than Islamist."
Their detention proved to be "a terrifying odyssey across Syria," he told Bel RTL.
"We were moved around a lot… it was not always the same group that held us, there were very violent groups, very anti-West and some anti-Christian."
Piccinin said they tried to escape twice, once while their captors were at prayer, but they were tracked down after two days and "seriously punished."
Piccinin, an Arabic speaker who has travelled to Syria seven times since the conflict broke out in 2011, said the rebel cause had changed, descending into banditry.
La Stampa said Italian officials had been concerned that as the possibility of US-led air strikes on Syria increases, "the frontline could move rapidly and contact could be lost with kidnappers."
The media rights watchdog Reporters Sans Frontieres (RSF) says 13 journalists are still missing in Syria.
Among the kidnapped are two French journalists, Didier Francois and Edouard Elias, and US journalist James Foley, who had been working for Global Post, Agence France-Presse and other international media.