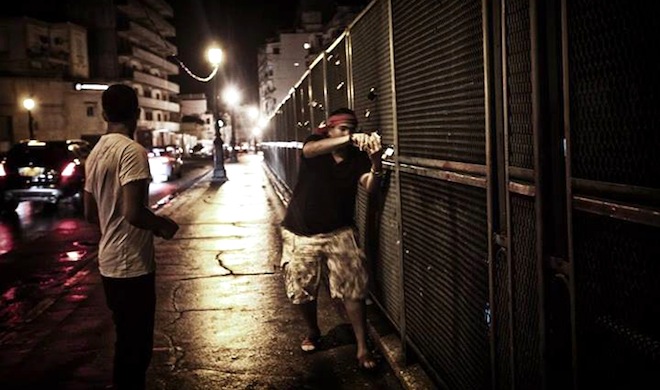 Last updated: 24 September, 2013
Algeria's controversial bridge of love
Three journalists in Algiers have transformed what is considered an infamous "suicide bridge" in the Telemly area of the Algerian capital into a "bridge of love". But the initiative has been greeted with mixed reactions.
Inspired by "Pont des Arts" in Paris, Algerian citizens are invited to place a lock with the names of loved ones onto the bridge as a symbol of unity within society. However, for many in a Muslim country, the subject of love is somewhat taboo. The love of the nation, the love of family and the love of friends are more welcomed than that of romantic love.
Yet, who is to say that this bridge cannot represent all of the differing aspects of what such an abstract term as love can mean? Religion and culture all too many times become intertwined and confused: one being used to explain the other, when in fact they are very different entities.
DON'T MISS The story of Algeria's traditional tattoos (PICTURES)
Salafists have taken it upon themselves to try to remove love locks from the bridge, condemning the youth and society of Algeria to retracting backwards and following Western ideas and ideals rather than a strict Islamic way. Armed with pliers, they cut the padlocks at night, while furling Quranic inscriptions across the bridge's wall.
"The collision of politics, Islam and societal taboos create a river of unrest"
This has upset other citizens as well as the journalists who set up the initiative themselves. Journalist and co-organiser Mehdi Mhenni displayed his despondency, exclaiming that the Salafist reaction was typical of their stance; an attempt to trump what was meant to be positive by satanising a community-driven cause.
Reactions on Twitter also varied, where Algiers resident Karim stated: "For me, everyone should be free to express themselves as they please. It's about respecting and supporting one another's choices."
Interestingly, criticism has also been directed towards organisations such as Le Département du Renseignement et de la Sécurité (DRS), the secret information service of Algeria. Many believe that fear, outcry and propaganda is created purposely through what seems menial actions (as that of the Love Bridge) in order to keep Algerian society in line, not questioning too many authoritarian and governmental actions.
The DRS is believed to infiltrate and influence Islamist groups in the country. To what extent many of the local Islamist groups are secretly controlled by the military is an open question, but some recent records suggests that DRS influence over these extremist constellations is considerable.
The same can be said of the influence that the DRS has over media and press coverage in Algeria. Though no blatant censorship exists, media outlets in the country time and again accuse the government of using laws to control and edit what is shown in the mainstream.
Algeria lives by rumour and the collision of politics, Islam and societal taboos create a river of unrest that flows continuously with instability on all sides. With that in mind, it seems the bridge of love has become yet another symbol of a divided society.
YOU MAY ALSO LIKE Algerians get hyped for 3G