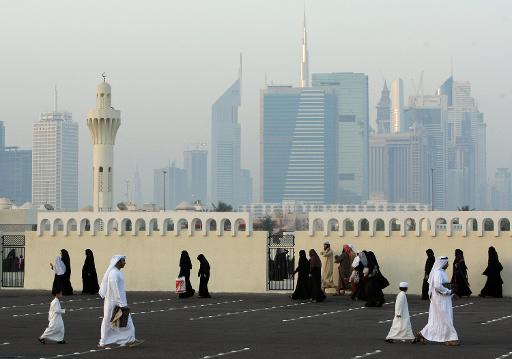 Last updated: 5 October, 2013
Dubai aims to be Islamic economy hub by 2016
The Gulf emirate of Dubai announced Saturday an ambitious plan to establish itself as the main global centre for Islam-compliant products and services within three years.
The glitzy city-state, which has already established itself as a global hub for air transport and transit trade, as well as a regional financial centre, is hoping to be the pivot of the large and widespread Islamic economy.
The government on Saturday spelled out its strategy to tap the global economy for goods and services that comply with Islamic law, or sharia, which it valued at $8 trillion, for a population of 1.6 billion Muslims whose foreign trade amounts to $4 trillion.
"The importance of the Islamic economy is not limited to the significant growth achieved over the past few years. Rather, its importance lies in the fact that it is one of the sectors expected to witness the fastest growth for several years," the Dubai government said in a statement.
"The world Islamic economy sector is growing at a rate of 10-15% per annum," it added.
The Supreme Committee for developing the Islamic economy said the initiative is based on establishing the necessary laws and regulatory bodies to develop the sector.
The Islamic economy includes Halal food products and Islam-compliant tourism, culture and education, as well as sharia-friendly financial instruments and insurance.
London and Kuala Lumpur are believed to be the largest markets for Islamic sukuk bonds.
Minister of Cabinet Affairs Mohammed al-Gergawi, who is chairing the Supreme Committee, said it aims to realise the goals of the initiative in three years.
Dubai's economy was hit hard in 2009 by the global financial crisis, which caused its rapidly growing real estate sector to shed half its value.
But the economy of the debt-laden emirate has made a strong comeback, with trade, tourism and transport expanding while the battered property sector recently posted a significant recovery, prodded by a surge in demand.