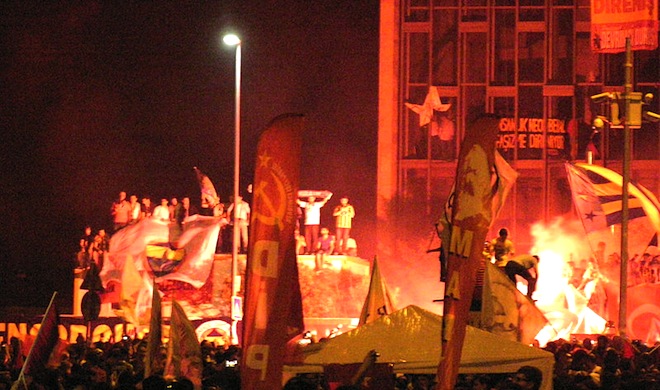 Last updated: 6 October, 2013
Turkish stadiums become political battlegrounds
"We Turks are not known for our calmness when watching sports so this new mix of football and politics could make things even more explosive," writes Barın Kayaoğlu.
When the Turkish premier football league (Süper Lig) started last month, many observers expected to see a contest beside sports – one that would pit football fans against the Justice and Development Party (AKP) government.
There were hints of this phenomenon in the first week of the Süper Lig. First, anti-AKP football fans circumvented the government's ban against political slogans at games by simply chanting the words "political slogan." Other fans were more confrontational. At the 17 August match between the Istanbul giant Beşiktaş and the Black Sea powerhouse Trabzonspor, cheers against the AKP and police forces drowned out all other noises. Some Beşiktaş fans wore t-shirts with the names of protestors killed by police during this summer's Gezi Park riots.
"Conservative towns will likely put their weight behind Prime Minister Erdoğan and the AKP"
But the first week of the Turkish league also saw agitation from AKP supporters. In light of events in Egypt, pro-AKP spectators followed Prime Minister Recep Tayyip Erdoğan's lead and expressed solidarity with Muhammad Morsi, the deposed president of Egypt. Several players, after scoring goals, waved four fingers in reference to "raba'a," the ordinal number four in Arabic that has become a symbol for Cairo's Raba'a al-Adawiya Mosque, where pro-Morsi supporters were mercilessly attacked by Egyptian security forces. Emre Belözoğlu, the captain of Istanbul titan Fenerbahçe, went even further: after scoring a goal and doing the "raba'a" gesture, he prostrated as Muslims do when they pray.
The games last weekend proved once again that the political contest in Turkey's stadiums will involve multiple sides – not just a gesture match between pro- and anti-AKP fans.
At the last moments of Beşiktaş's home game against Galatasaray, Beşiktaş fans stormed the field after a player from the visiting team was sent off. To the casual observer, that sort of hooliganism may seem normal. But reactions to the events proved that there was more to it. One opposition website claimed that a local AKP official proudly boasted how the group that had stormed the field was the "1453 Eagles," allegedly a pro-AKP group. (The eagle is Beşiktaş's mascot and 1453 was the year when Ottoman Turks had captured Istanbul from the Byzantines, an event that still serves as a rallying point for nationalists and conservatives in Turkey.) Pro-AKP media outlets, on the other hand, blamed Çarşı, the leading Beşiktaş fan group known for its leftist politics and opposition to the AKP government. Çarşı fans were very effective in organizing the people of Istanbul during the Gezi protests.
ALSO READ "One man show" helps Syrian school children
There is much to lend credence to the opposition's claims. Since last summer, the AKP has attempted to punish Çarşı for its insubordination to government fiat. (Of course, that was after the ruling party had tried to pretend that some Çarşı members had attended a pro-government rally. It became quickly clear that the AKP supporters holding the Çarşı signs had badly faked their placards because the Beşiktaş fan group always uses the anarchist symbol "A" in its insignia.) Furthermore, Atatürk Stadium, where the Beşiktaş-Galatasaray game took place, had a notable lack of riot police. Turkish riot police are always omnipresent at such events to prevent clashes among spectators.
The timing of the Beşiktaş fans who stormed the field was also strange: the Galatasaray player was sent-off at a time when Beşiktas was losing 2-1. It would have been sensible for Beşiktaş fans to wait for their team to score an equalizing goal.
Finally, from the reports of Beşiktaş fans who were present at Atatürk Stadium, it looks like the fans who stormed the field jump from the stands were the 1453 Eagles, not Çarşı. For an allegedly pro-government fan group to storm the field and pro-government media outlets' attempt to blame it on Çarşı demonstrate that there are too many conspiracy theories in play here.
Indeed, for precisely that reason, one could contend that the AKP government had nothing to do with any of this. In fact, it is hard to say with certainty whether the AKP government is trying to marginalize anti-AKP football fans or deliberately trying to insert its own supporters into stadiums.
ALSO READ Jews in Tunisia feel increasingly targeted
But that's beside the point anyway: the image of a clash between pro- and anti-government fans is unmistakable. This image shows that Turkish football is turning into a complex political web with myriad actors having multiple interests. In the weeks ahead, football teams and their supporters hailing from smaller, conservative towns will likely put their weight behind Prime Minister Erdoğan and the AKP. Meanwhile, supporters of teams hailing from major cities such as Ankara and Istanbul, where opposition to the AKP is much stronger, will voice their grievances against the Erdoğan government in vocal terms.
"The sport might actually help to create new political alliances among disparate social groups"
But the clashes between pro- and anti-AKP divisions within Galatasaray, Beşiktaş, and Fenerbahçe cannot be overlooked. The AKP has received close to half the votes in the last two general elections; it is only sound logic to argue that many of those AKP voters also support one of Turkey's three major teams. Pro-AKP fans of those sports clubs are not shying away from making pro-government statements on game day.
So where will this cocktail of sports and politics take Turkey? A phrase in the Turkish language ("takım tutar gibi parti tutmak") criticizes those who support a political party like a sports team – blindly and fanatically. The saying was meant to criticize how professional football tends to act as opium for Turkish masses. Now, the sport might actually help to create new political alliances among disparate social groups in Turkey. But we Turks are not known for our calmness when watching sports so this new mix of football and politics could make things even more explosive.
Barın Kayaoğlu is finishing his doctorate in history at the University of Virginia. He was recently a Smith Richardson Foundation fellow in International Security Studies at Yale University. You can follow him on www.barinkayaoglu.com, Twitter (@barinkayaoglu), and Facebook (Barın Kayaoğlu).