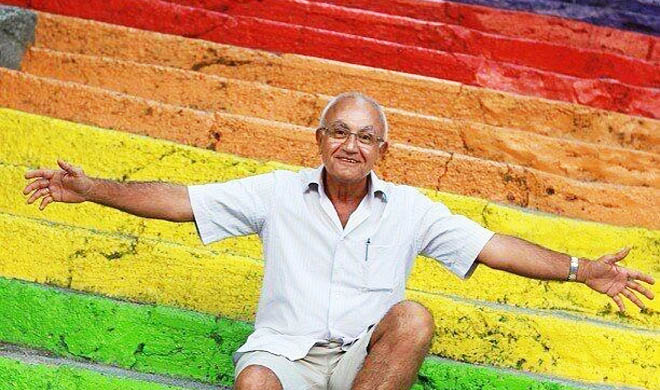 Last updated: 10 October, 2013
Painted Istanbul stairs cause public storm
The Turkish government has once again found itself in conflict with its citizens after an Istanbulite decided to paint one of the city's stairways in rainbow colours.
It all began on August 26, when 64-year-old retiree Huseyin Cetinel after four days of hard work had finished painting the 145 steps of a stairway in Istanbul's Beyoglu district in all the colours of the rainbow.
This created a buzz of activity, not least on social media, making Centinel an unintentional hero of the city's gay community, although he was not aware of the connection with the rainbow flag and said he did not do it "for a group or as a form of activism."
Four days later, the neighbourhood found the stairs repainted in the original cement grey, causing a wave of anger and protests as well as determined calls to repaint Beyoglu stairs and many others across the country.
"Are they accusing me of disturbing public order? We're the public."
First denying to have covered the stairs with grey, local authorities later admitted it and then even repainted the stairs in the rainbow colours, but adding black to the palette this time.
However, the damage seemed to have already been done, with many from Turkey's young, educated, liberal population (who made up the bulk of the protesters in the Gezi protests earlier this year) seeing this as yet another sinister move from a government bent on controlling too much of people's lives.
"Are they accusing me of disturbing public order? We're the public. They are our stairs," Centinel told Turkish news media.
"The fact that the government-run municipality first denied having painted over the stairs, then agreed to paint them back in color, shows how desperate and indecisive they are about their policies," Nalan Ozgul, a financial adviser, told the New York Times, adding that authoritative policies were doomed to fail.
"I would not have come here if they haven't repainted this over in grey," she said.