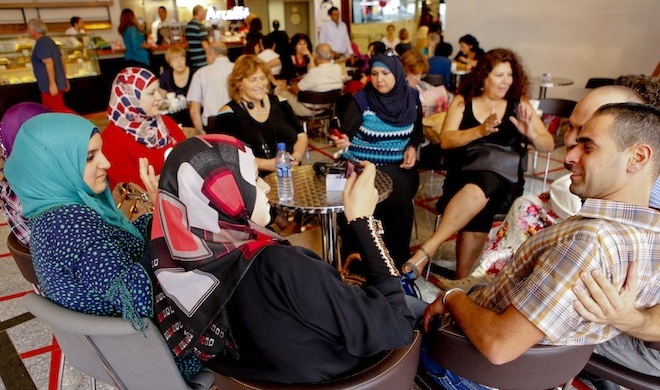 Last updated: 17 October, 2013
Women's brains may hold key to peace in Israel and Palestine
New studies in brain science reveal how women's leadership can push conflicts, whether personal or political, from violent to diplomatic resolution.
In "The Better Angels of Our Nature," Harvard professor and cognitive scientist Steven Pinker compiles research about the human brain and historical trends. Data points to a biological difference between individuals inclined towards violent or nonviolent solutions. The defining factor is gender.
A part of the hypothalamus responsible for seeking and calculating is twice as large in men's brains. The entire system is studded with receptors for testosterone. The desire for revenge, justice and honor originates in this nucleus.
Pinker writes that for men, revenge literally turns off empathic responses in the brain. A woman is almost always less likely to act violent or aggressive than a man in the same situation.
Countless global ethnographic studies, such as those published in "Sex and World Peace"conclude that the better a society treats women, the less it embraces war. Surveys conducted by UN Women revealed that 2011 marked a new record with 9 percent women participating as negotiators and 4 percent as signatories in peace talks. Over a decade since the UN passed Resolution 1325, which mandating that women be engaged and represented in all official reconciliation procedures, this unanimously adopted resolution has clearly not been implemented on the ground.
"Women are the key to peace."
The Global Peace Index (GPI) currently rates the Middle East as the least peaceful region in the world, a pattern that has only been exacerbated since the recent revolutions. Their research also directly associated gender equality with a nation's 2013 ranking in the GPI, suggesting higher levels of gender equality are linked with peace. The strength of the association was broadly consistent across geographical regions, regime types and income levels.
According to UN Women Executive Director Michelle Bachelet, the Middle East has the lowest number of women ministers. Deliberately engaging women, prioritizing women's leadership, could dramatically change the conflict between Palestinians and Israelis.
Today, women lead Israel's strongest leftist political parties urging for peace, including Opposition Chairwoman Shelly Yachimovich; Zehava Galon-On of Meretz; and Tzipi Livni, currently the sole female representative participating in official peace talks between Israelis and Palestinians.
ALSO READ A political circus: Palestinians creative about life behind the Wall
While there are now 26 female Knesset members out of 120, a new record, both Israeli and Palestinian governments widely exclude women from decision-making roles. This perpetuates war: women are more likely to find nonviolent solutions.
As of 2011, the Palestinian Central Bureau of Statistics reported that women made up only about 13 percent of the Palestinian Legislative Council. In both the West Bank and Gaza, women are now graduating from universities at a higher rate than men. There is also a rising number of women judges in the West Bank. But while the city of Bethlehem elected its first female mayor in 2013, her success is exceptional. There have not been much notable gains for Palestinian women in government.
When considering the Israeli-Palestinian conflict, it is crucial to avoid the Orientalist perspective that Palestinian women need to be "rescued" or that it is the international community's responsibility to force gender mainstreaming onto Middle Eastern governments. Instead, the global community can acknowledge women who are already, organically, influencing their communities and pioneering change.
While official peace talks teeter on the brink of collapse, robust grassroots peace initiatives are growing. For example, the Parent's Circle Family Forum (PCFF) is engaging people on both sides who lost family members in the conflict. Women play a central role in the success and growth of these efforts.
"When I came today, I was scared. I thought Israelis are dangerous," said Aseel Jafari, from Bethlehem, at the PCFF's Tel Aviv event on September 28, 'Neighbors: Women Creating Reconciliation.' Over 1,500 people participated, including 200 Palestinians from the West Bank. "For the first time I'm surrounded by Israelis without guns, who won't hurt me. I look around, wow," said Jafari.

Milestone meetings at the PCFF women's groups
Empirical evidence suggests that increasing women's roles in negotiations will produce more peaceful results. In the case of the Israeli-Palestinian conflict, one of the core challenges is bringing representatives to the table to start with. Both sides distrust each other's commitment to uphold treaties. It turns out that women's unique psychology offers a perfect antidote for this dilemma.
Scholars have identified four universal ingredients for successful reconciliation.
The first two universal steps are truth-telling and acknowledgement, then explicitly redefining social identities, for example, identifying as a bereaved mother regardless of nationality. Interpersonal communication is where women thrive.
ALSO READ Can Palestinians and Israelis unite over the environment?
"The PCFF depends on women," said Lara Brieghielh from Hebron, noting that on the Palestinian side the peacemaking group spreads mostly through word-of-mouth, predominately done by networks of women.
The PCFF utilizes creative projects to help these first steps. In the photography program, women photographed places that remind them of their loved one's death. They captured domestic scenes: a young boy sleeping beneath a portrait of his dead father, the shirt left behind by a slain brother, blooming flowers in an empty garden. Everyone was matched with a partner and visited the partner's home.
"Women are already organizing and leading reconciliation"
The final steps in successful reconciliation are accepting incomplete justice, and what Pinker calls "costly signaling": a voluntary, risky and vulnerable move that proves the individual won't resume hostilities. In the PCFF's creative programs for women, this step is illustrated through visiting the "other side."
Accepting incomplete justice moves reconciliation towards compromise. Participants don't seek revenge or collective punishment for the opposing group. Instead, they acknowledge the harm done was irreparable, that all retribution will be merely symbolic. They talk about forgiving, not because the violence was justifiable or the debt erased, but because a peaceful future requires moving on, together.
The PCFF offers a prime example for how official negotiations could succeed. "Look around," said Israeli participant Merav Yaron-Barniv. "Women are already organizing and leading reconciliation. Aesha (Aqtam, PCFF women's group leader) is now a respected community leader in Nablus."
On September 27, Aesha Aqtam's son was injured at a checkpoint. She still brought her family to Tel Aviv the next day to promote peace. "We both have the right to live and not to leave," said Aqtam. She believes women decide the future because they raise the children. "The next generation learns from their mothers and educators," said Aqtam. "Women are the key to peace."
Translation assistance provided by Omri Dotan
EDITOR'S PICK Interview: Morocco's pioneering woman executive changes the game