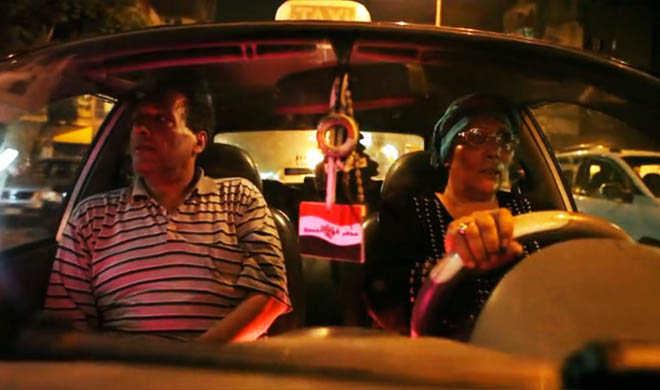 Last updated: 22 October, 2013
"Another night on Earth" – Egypt through taxi conversations
Does the back seat of a taxi sound like a boring set for a documentary? If so, think again. Director David Muñoz shows how the chaotic traffic scene in Cairo is full of interesting conversations.
One of the things that characterises Cairo is its chaotic traffic and the constant noise of horns as cars try to snake through the streets. The backseats of Cairo's taxis is where the film 'Another Night on Earth' takes place.
A taxi, a driver and passengers are the three main elements of this film that tells the story of ordinary Egyptians debating and arguing about the present and future of the country since the Revolution. An uprising that is more alive than ever after the army took over and ousted President Morsi.
"Egyptians spend so much time in taxis due to traffic jams and the taxis are private spaces that allow people to talk calmly with strangers," said the director David Muñoz on why he chose this way to tell the story.
Although the film was shot from May to September 2011, the same dialogues can be heard today on the streets of Egypt. One of the passengers stated, "If there is a new president and he makes a new constitution, and we are not convinced, we will carry on the protests. If there is no change, we will force him to resign".
"Where is the revolution?" asked another passenger and continued: "This is not a revolution. Revolution means change at all levels and we are still the way we were at the start, or worse."
"There is a clear need for change embedded in the people that is irreversible. Everything that I recorded in 2011, I see today. The problems they had in 2011, they still have in 2013," Muñoz affirms.
He shot 70 journeys where all kinds of people got into the taxis, including big families, women, children and men. They all talked about different topics, ranging from politics to social problems such as unemployment, education and health.
During one of the journeys, the taxi driver argues with two Muslim women about the protests in Tahrir Square. While the driver criticised the impatience of the protesters who cannot wait for results, the women defended them.
"Nobody wants to wait now, they want it all now, because of the lies and deception they have seen since birth. They never do what they say."
Religion is also addressed in the film. A woman and a driver discussed the possibility of an Islamist government, forcing women to wear the hijab on the streets. The passenger highlights the right to choose and he thinks of his daughter as an example.
"She is the one who has to decide if she wants to wear it or not. The normal thing is for everyone to make up their own minds."
The 52 minute documentary focuses on the problems of ordinary Egyptians and stays away from the mainstream media discourse. Muñoz found himself fascinated by the Egyptian people "who are very extrovert and brave, who do not close their mouths, and who say what they think without second thoughts or fears which we have assimilated in the West."