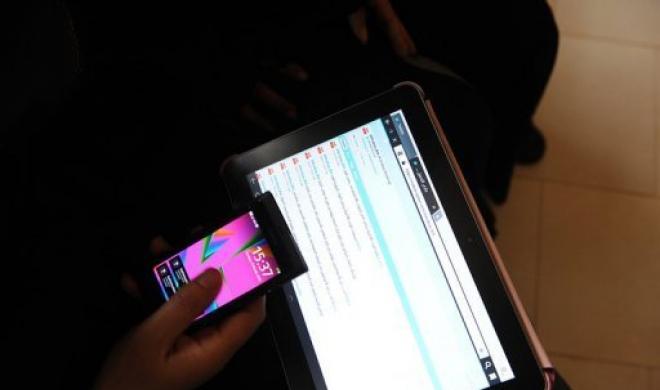 Last updated: 24 October, 2013
Big Brother and social media in Saudi Arabia
Alex Malouf looks into how the conservative Kingdom is dealing with an explosion of Twitter and Facebook activity.
Saudi Arabia's citizens have fallen head over heels for Facebook, Twitter, WhatsApp and any and every other online communications channel. The Kingdom has more active Twitter users than any other country in the Middle East (currently 6.5 million and counting). Facebook is another favourite past-time with approximately 7.7 million active users.
All of this online activity hasn't gone unnoticed by the Kingdom's authorities. Unlike in other parts of the Gulf where little debate of any substance takes place online, the Kingdom's digital space has become a debate hall for Saudis with differing views of where their country should be heading. Over the past year there have been increasingly frequent statements made by officials about people's online behaviour.
In February, Saudi's Minister of Culture and Information Abdulaziz Khoja indirectly recognized the growing importance of social media when speaking to the media following the arrest of Saudi novelist Turki Al Hamad and Saudi writer Hamza Kashgari for Tweets that were deemed to be offensive to Islam. "The ministry cannot monitor everything published on Twitter," Khoja said in a statement.
The difficulty of monitoring millions online hasn't deterred the Saudi government from taking action against those who it deems have crossed red lines. The country's authorities initially threatened to shut down communications tools including Skype and WhatsApp for security reasons (they were unable to monitor information transmitted between users due to the application's encryption). When that resulted in a public backlash, the authorities have instead started to emphasize what should be and should not be talked about.
"Some in government are concerned by these changes, others believe that social media isn't a danger but rather a benefit to the country"
Religious criticism is one such taboo, as is discussing human rights. One prominent activist, Mohammad Al-Qahtani, was charged with a number of violations in June this year, including inciting public opinion by accusing authorities of human rights violations. Al-Qahtani regularly Tweeted on judicial issues to tens of thousands followers.
To both underline the issue's importance and how they are attempting to stem the online tide, one of the Kingdom's top legal officials warned Saudi nationals that they would face punishment when violating the Kingdom's laws even when outside the country. The remark was a pointed reference to social media, particularly to online Saudi activists.
Judge Abdul Aziz Al-Mohanna, head of the committee for looking into media violations at the Ministry of Culture and Information, told local media: "If a citizen publishes anything in foreign media, in violation of Saudi laws, he or she will not be allowed to go scot free without being punished. A special panel has been set up to follow the content published in the audio and visual media."
While the government is stepping up its efforts to warn the public about what it deems acceptable and unacceptable online, Saudi citizens are finding increasingly inventive ways to use social media. One group of Saudis who have quickly taken to social media to push their agenda both domestically and internationally are the Saudi women who have been struggling to overturn the Kingdom's ban on female driving.
Their latest campaign has involved flooding YouTube, Twitter and Facebook with videos and images of Saudi women behind the wheel. Reuters quoted one female activist as saying that the use of social media form the first part of a two-stage campaign to change attitudes in the country.
For the majority of Saudis, social media is a channel to vent their feelings and frustrations, to discuss issues either anonymously or openly, and to escape from a society that can often constrict them with its conservative norms. Whilst some in government are concerned by these changes, others believe that social media isn't a danger but rather a benefit to the country.
"With time, individuals will learn to express their opinions and to deal with the events in a more understanding, knowledgeable and accommodating approach," Saudi Arabia's Minister of Culture and Information Khoja has said.