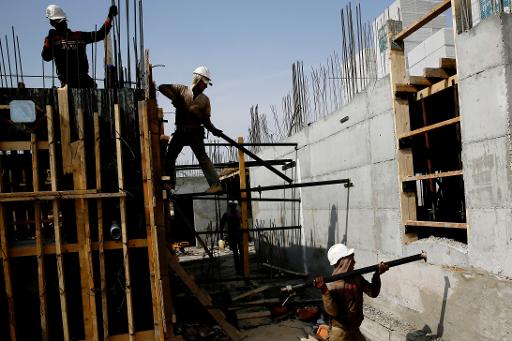 Last updated: 3 November, 2013
Israel publishes tenders for 1,859 settler homes
Israel issued tenders to build 1,859 settler homes Sunday, angering Palestinians ahead of a visit by US Secretary of State John Kerry aimed at pushing the peace process forward.
Documents published on the website of the government-run Israel Land Authority showed that 1,031 plots were offered by Israel's housing and construction ministry in the occupied West Bank and 828 in annexed east Jerusalem.
Settlement watchdog Peace Now said that issuing building tenders was the last stage in the bureaucratic process and that homes could start going up shortly.
"Within a few months they will choose the winning bids and the successful contractors will be able to start building within a number of weeks (after that)," the group's Hagit Ofran said.
The Palestinians, who have long viewed settlements as a major obstacle to resolving the decades-old conflict, threatened to go to the UN Security Council over the latest Israeli move.
"The PLO is considering a mechanism to go to the Security Council and the UN against these new Israeli decisions, especially as there are international resolutions that consider settlements illegal," Palestine Liberation Organisation senior member Wassel Abu Youssef told AFP, without elaborating.
Israeli Prime Minister Benjamin Netanyahu said on Sunday that he never promised to freeze settlement construction during talks.
"Israel is honouring all the understandings reached at the start of negotiations with the Palestinians," he told ministers of his Likud party, a source who attended the meeting told AFP.
"The Palestinians knew very well that Israel would be building during the negotiations," he told them. "Israel did not take upon itself any limitations in this regard."
The Palestinians flatly deny any such "understandings."
Kerry, speaking in Cairo on the first stop of an 11-day tour which will also take him to Israel and the Palestinian territories, sought Sunday to calm fears that peace talks were faltering.
"I remain hopeful, and we will make every effort in the United States to move the process forward in a fair-handed way, a balanced way that reflects the complexity of these issues," he said.
He stressed that Washington remained committed to helping the parties reach a final peace deal, but acknowledged recent tensions over Israel's stated intention to keep building settler homes.
"There is no doubt … that the settlements have disturbed people's perceptions of whether or not people are serious and are moving in the right direction," he admitted.
Kerry persuaded the two sides in late July to resume negotiations after a nearly three-year hiatus. The last round of direct negotiations broke down within weeks in 2010 because of a dispute over settlement construction.
The United States has insisted that participants maintain silence on the progress of the current negotiations, in order to prevent any efforts to torpedo the talks.
On Wednesday, Netanyahu and Interior Minister Gideon Saar were reported to have agreed to build 1,500 new homes in the east Jerusalem settlement of Ramat Shlomo.
That news broke almost immediately after Israel began freeing 26 long-serving Palestinian prisoners in line with commitments to the US-backed peace efforts.
The sequence of events mirrored an earlier prisoner release on August 13, when a first tranche of 26 prisoners was freed and Israel announced construction of more than 2,000 new settler homes, most of them in east Jerusalem.
'Larger steps to make peace harder'
"Whenever Netanyahu makes a small step towards peace, he makes two larger steps to make it harder to get to peace," Peace Now said.
"The tenders that were published today (Sunday) … will not only make the talks harder but would create facts on the ground that will make the two-state solution much harder.
Peace Now's Ofran said that of the sites offered for sale on Sunday, 700 were in the east Jerusalem settlement of Ramat Shlomo.
Previous plans to build there were announced during a March 2010 visit by US Vice President Joe Biden, sparking outrage in Washington, which had been trying to revive peace talks at the time.
Israel captured east Jerusalem during the 1967 Six-Day War and later annexed it in a move never recognised by the international community. The Palestinians have demanded east Jerusalem be the capital of their future state.