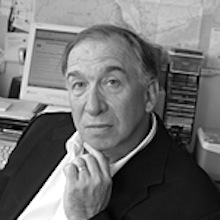 Last updated: 7 November, 2013
"That misery pales in comparison to the suffering to come if Abrams, Netanyahu, and their ilk succeed in torpedoing negotiations with Iran"
Elliott Abrams' intention – as is Mr. Netanyahu's – is to do whatever he can to sabotage any chance of a diplomatic accommodation with Iran that might leave that country any shred of a nuclear program - and, for that matter, any shred of dignity on the international stage, writes John Robertson.
Anyone who's been paying attention knows that Elliott Abrams, for years, has been the American mouthpiece of Israel's Likud party. (I wish I could remember – so I could properly cite it – where it was that I read, many years ago, that during his time as a US government official, Abrams had a Likud party poster plastered onto his office wall.)
It's no surprise, then, that Abrams' recent op-eds and blog posts are in lock-step with Israel PM Benjamin Netanyahu's dire warnings about the wily Persians and their dulcet blandishments, even as they plan a global take-over. (Now, says Bibi to the Nigerian government, it's Africa who'd best be watching out, for surely the Iranians are coming after them as well.)
At his Pressure Points blog (which the Council on Foreign Relations, mystifyingly, continues to host), Abrams warned us not to be fooled by Mr. Rouhani's talk of moderation and accommodation with the West:
"Today we find in regime stalwarts, who have represented the Islamic Republic for decades and smiled while acts of terrorism took hundreds of lives, new hope for reform. But inside Iran, there is no reform; human rights violations continue apace. . . . What's the relationship between the internal situation and the nuclear file? Simply this: we are fooling ourselves if we see in Rouhani a reformer who wishes to change the Iranian system, move toward democracy, and abandon the nuclear weapons program. That "Rouhani narrative" was carefully constructed to ensnare Western diplomats, officials, and journalists. We have no excuse if we fall for it."
Hmmm… Regime stalwarts who smiled while acts of terrorism took hundreds of lives. Indeed. No argument. Iran's current leadership hardly can be held up as paragons of democracy. In fact, some of Iran's leaders deserve to be hauled before the ICC. And former Iran president Mahmoud Ahmadinejad's execrable comments denying the Holocaust remain unforgiveable, and are not to be blithely dismissed and forgotten.
Yet, what about Abrams himself? This is a man who was (to borrow Abrams' characterization of Rouhani) a "stalwart" of both the Reagan and Bush II administrations. He was also a man who kept quiet when, during Reagan's time, the US winked at our thug-ally Saddam Hussein as he gassed both Iranian troops and Kurdish villagers during the horrific Iran-Iraq war of 1980-1988. Would any of us completely reject categorizing those acts as acts of state-sponsored terrorism? (Let's leave alone for now Abrams' cover-up of US-backed atrocities, costing hundreds of lives, in El Salvador under Reagan.)
Abrams is also the man who headed up the Near East section for George W. Bush's National Security Council. (By the way, Abrams could never have hoped to achieve that position had not Bush's father officially pardoned him for his misdeeds in connection with the Iran-CONTRA scandal of the late 1980s.) Abrams' position on the NSC, of course, gave him a front-row seat for the US invasion and occupation of Iraq, which according to a recent study cost the lives of more than half a million Iraqis. And the Pandora's Box that Abrams helped Bush open in Iraq continues to engulf in death and misery both Iraq and Syria, as well as the neighboring countries into which have spilled millions of refugees.
Human rights violations, anyone?
Let's be blunt: Elliott Abrams has quite likely had a hand in more needless deaths than all of Iran's ayatollahs, agents, and proxies, combined. Obviously, though, Mr. Abrams is a true-believer – and essentially an unreconstructed neoconservative – when it comes to US – and Israeli – interests. Military might is to be applied readily and liberally – as are the harshest measures that we can pull from the diplomacy tool-kit – if such application ensures Israel's strategic supremacy in the Middle East and what is America's (in Abrams' world) right-and-proper role as the pre-eminent power on the planet.
His intention now (as is Mr. Netanyahu's) is to do whatever he can to sabotage any chance of a diplomatic accommodation with Iran that might leave that country any shred of a nuclear program – and, for that matter, any shred of dignity on the international stage. The crippling sanctions for which they pushed – and continues to push – have already stripped Iran's economy, as well as the livelihoods of most of its people, down to threadbare, making Abrams again complicit in inflicting misery on thousands of lives.
But that misery pales in comparison to the suffering to come if Abrams, Netanyahu, and their ilk succeed in torpedoing negotiations with Iran. That will leave three options:
1. accepting and containing Iran as a nuclear-weapons power (if that is indeed what Iran's leadership intends, and there is absolutely no verified proof of that)
2. ratcheting up sanctions to the point that life in Iran is reduced to near-Stone Age standards (which is what sanctions against Iraq achieved during the 1990s – those surely did the Iraqis, and the world, a lot of good, didn't they?); or
3. major military strikes intended to devastate Iranian nuclear and military facilities. (of course, there's always that pesky matter of "collateral damage" – like, wind-blown radioactive fallout.)
I am hardly the first observer to note that, if the negotiations fail, the chances of military action increase exponentially. The consequences promise to be disastrous, both to the people of Iran and to the global economy. More death and misery.
But, for Mr. Abrams, all that suffering can be winked at. After all, it will surely be for a greater good. And if any culpability sticks to him (as opposed to his former boss, the infamous "teflon president") – no worries. In Elliott Abrams' world, you always get do-overs.
The views expressed in this article are the author's and don't neccessarily reflect those of Your Middle East.