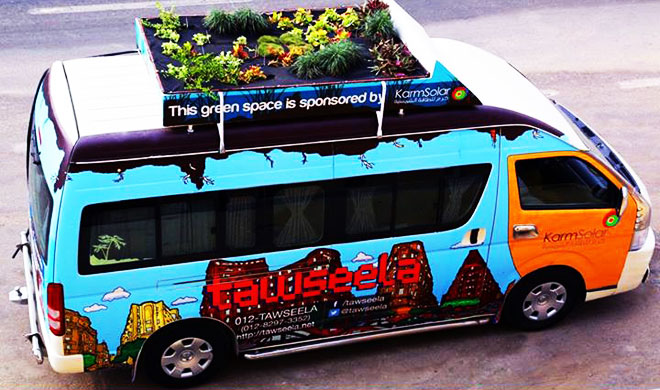 Last updated: 19 November, 2013
The solution to Cairo's public transportation?
A new kind of transportation starts its first route in Cairo in December. Tawseela's colorful buses feature high speed wireless Internet and comfortable seats, and aims to change the way Egyptians move to and from work.
"People suffer from the traffic they face on a daily basis. Some had experienced bad situations in public transportation like taxis or buses," says CEO and founder Tayssir Hawary.
"What distinguishes us from any other transportation option is that we are B2C not B2B. We are accessible for individuals, we have schedule flexibility, we provide safety especially for women, and we are cleaner than taxis or buses. We also offer availability throughout the city, compared to Nile Taxi."
The aim of Tawseela is getting passengers from home to work and back in a very comforting environment. Right now, there is a voting process on the route and the timings on the Tawseela website.
"The transportation companies don't have the concept of providing comfortable seats; they only care about carrying the biggest number of people, mainly because they are B2B companies. They also don't care if their passengers are satisfied with their services or not. We will not have stable routes like the Super jets, for instance, there will be a huge flexibility," Hawary added.
The trips with Tawseela can be booked online either as a single ride or monthly subscription. There is a choice between large comfortable chairs for 900LE per month or a 600LE per month with normal chairs.
"We wanted to add beauty and color to the city," Hawary said. "So we came up with the idea of making colorful buses plus putting some colorful plants on the roof."
He says that although this won't make a huge difference for the pollution problem as at least 10,000 buses with plants would be required to have an effect, the vision is "to encourage the usefulness of the greenery."
The journey towards the impending launch has not been an easy one for Hawary and his colleagues. They have faced many obstacles for almost a year, including dealing with legal issues and bus suppliers.
"We will start with one route with four buses, till now there are 150 suggested routes on our website," he said.
"We will take some time to expand, mainly because we are focusing more on making it a good experience and a good service for satisfying people rather than focusing on increasing the number of buses or routes."
The future plans include and expansion outside Cairo, including Alexandria, Port Said and other Egyptian cities.