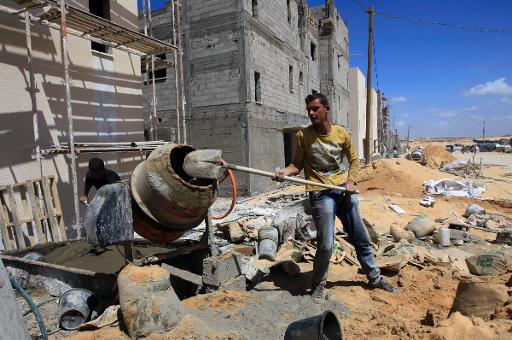 Last updated: 19 November, 2013
UN agency says 19 of 20 Gaza projects halted by Israel
The UN agency for Palestinian refugees said Tuesday that 19 of its 20 construction projects in Gaza had ground to a halt because of an Israeli block on building materials.
UNRWA chief Filippo Grandi told donor representatives that since March the agency had "not had any construction projects cleared by the Israeli government, and for the past month, has been unable to import building materials."
Grandi, who steps down in the new year, gave a bleak picture of the Gaza economy under Israeli blockade, the agency said.
"Given that Israel does not allow exports and hence a resumption of normal economic activities, prices are rising because commodities are becoming scarce, lack of fuel has provoked the closure of the power plant, the few jobs available in the construction industry are disappearing, and the list continues.
"Gaza is quickly becoming uninhabitable, and further conflict is bound, as before, to affect civilians in Gaza and southern Israel, unless its causes are addressed," he warned.
"Perhaps strengthening the human security of the people of Gaza is a better avenue to ensuring regional stability than physical closures, political isolation and military action.
"To obtain this, first and foremost, the Israeli blockade — which is illegal — must be lifted."
There have been repeated conflicts in around Gaza with the last major flare-up between Israel and the territory's Islamist rulers Hamas in November last year.
Hamas government spokeswoman Israa al-Mudallal told a Gaza news conference that the situation was "on the verge of explosion."
She called on the international community to "authorise materials necessary for life in Gaza."
Israel insists the restrictions in Gaza are necessary to pressure Hamas, an Islamist militant group committed to the destruction of the Jewish state.