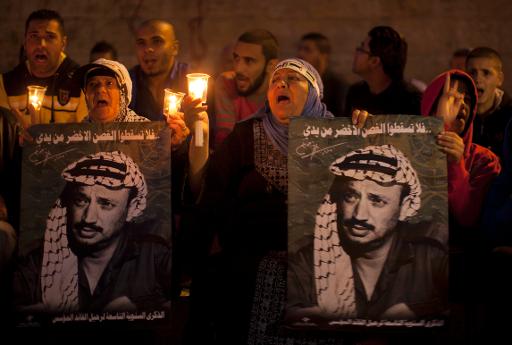 Last updated: 26 November, 2013
Israel's Peres rejects Arafat poisoning theory
Israeli President Shimon Peres rejected theories that Yasser Arafat was poisoned, telling a Mexican newspaper Tuesday that any assassin would have found it easier to shoot the Palestinian leader.
Swiss scientists have found that lab test results "moderately" backed the idea that Arafat died of polonium poisoning in 2004.
"I don't believe it," Peres told Excelsior newspaper in an interview ahead of a visit to Mexico. "If someone had wanted to get rid of Arafat, it would have been easier to do it with a bullet."
Peres shared the 1994 Nobel Peace Prize with Arafat and Israeli prime minister Yitzhak Rabin after signing the Oslo peace accords. Rabin was assassinated by a Jewish right-wing extremist in 1995.
Palestinian president Mahmud Abbas called last week for an international inquiry to decide who was responsible for Arafat's death.
Peres arrived in Mexico on Tuesday, leading an 80-strong Israeli business delegation.
He will hold talks with President Enrique Pena Nieto on Wednesday before meeting with the world's second richest man, telecommunications tycoon Carlos Slim.
On Thursday, Peres will inaugurate the Mexico-Israel Economic Forum and deliver a speech to the Senate.
He heads to the western city of Guadalajara on Friday to attend an international book fair where Israel is the guest of honor. He leaves Mexico on Sunday.
Israel's invitation to the biggest book fair in the Spanish-speaking world was criticized by a group of leftist intellectuals, who demanded that Palestinians be invited to the next event.