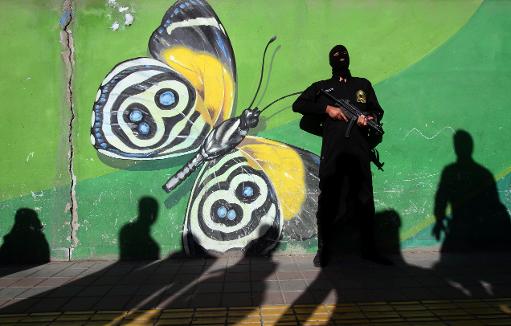 Last updated: 4 December, 2013
Iran arrests popular underground singer Amir Tataloo
Iran's morality police have arrested a popular underground singer dubbed Amir Tataloo whose songs the Islamic republic deems to be inappropriate, the reformist daily Etemad reported on Wednesday.
"Police will confront this group of people. Recently a singer named Tataloo has been arrested and (his case) referred to the judiciary," it cited morality police chief Colonel Massud Zahedian as saying.
"Thanks be to God, both (state-run) television and the culture ministry have paved the way for the activities of artists," the ISNA news agency reported Zahedian as saying.
"Underground (musicians) must stop and channel their work through legal and real frameworks."
Tataloo — real name Amir Hossein Maghsoudloo — began singing in 2003 and his style is a mix of pop, rap and rhythm and blues, according to websites.
He has attracted more than 570,000 fans on one of his Facebook pages.
"What is this nonsense about his arrest? I want my Amir, otherwise I will commit suicide," read one comment in Farsi posted by fan called Frina Linson.
The Etemad report added that the singer has been charged with security-related issues.
Under Iran's Islamic law, musicians must be officially approved by the culture ministry, which checks whether a song's lyrics and music comply with the country's moral values.
But many bands release albums anyway without seeking such permission.
In a separate incident, Etemad also reported the arrest by Revolutionary Guards of seven staff at an Internet website.
"Seven members of Narenji (Orange) website specialising in information technology and gadgets have been arrested in (the southern city of) Kerman."
The report said the website was launched in 2007 and that the reason for the arrests was not known.
Fars news agency had reported late on Monday that Revolutionary Guards had arrested cyber activists who were in contact with foreigners in Kerman.
"These people, who were working in a complex security and media network, have been accused of committing cyber-related crimes as well as being in contact with foreigners," it cited an unnamed security official as saying.