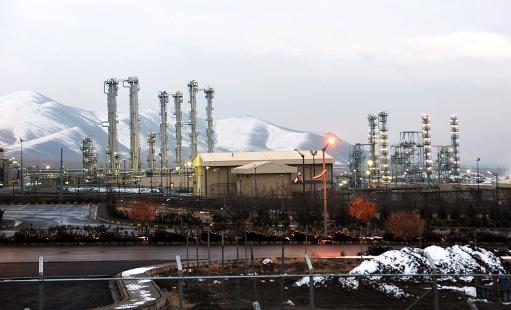 Last updated: 9 December, 2013
Experts to thrash out workings of Iran nuclear deal
Experts from Iran, world powers and the UN atomic watchdog began working out Monday the nuts and bolts of exactly how — and when — November's landmark nuclear deal will be implemented.
In particular the two-day Vienna meeting aimed to nail down the start date of Iran's promised six-month nuclear freeze, how this will be monitored and when sanctions will be eased.
After the talks with Britain, China, France, Russia, the United States, and Germany — the P5+1 — Iranian officials were due to meet just with the International Atomic Energy Agency on Wednesday.
In a major diplomatic breakthrough in Geneva on November 24, Tehran committed to limit uranium enrichment to low fissile purities for six months and not to make further advances at its Fordo, Natanz and Arak facilities.
Iran will also neutralise its stockpile of medium-enriched uranium — which is easy to convert to weapons-grade — and allow more intrusive IAEA inspections.
Iran's envoy to the IAEA, Reza Najafi, said on November 29 that he expected the implementation of the deal to begin "either at the end of December or the beginning of January".
The measures will lengthen the time Iran would need to develop nuclear weapons — if it chose to — and the deal aims to build trust while a longer-term "comprehensive" accord is negotiated.
Israel however, widely believed to have nuclear weapons itself and which has refused to rule out bombing Iran, has sharply criticised the Geneva deal.
Prime Minister Benjamin Netanyahu said Sunday that diplomatic efforts "must be coupled with powerful sanctions and a credible military threat".
The deal, coupled with Washington's reluctance to take military action against the Tehran-backed Syrian regime, has also irked mostly Sunni Gulf states that view Shiite Iran as a serious threat.
US Pentagon chief Chuck Hagel and Iranian Foreign Minister Mohammad Javad Zarif have separately visited several Gulf states in recent days in order to reassure them.
British Foreign Secretary William Hague was in Oman on Monday. He tweeted that his talks would cover also Iran.
Sanctions relief
Highlighting Iran's desire to obtain swift sanctions relief, Iranian central bank officials and sanctions experts took place in the Vienna meeting, Iran's chief negotiator Abbas Araqchi said on Sunday.
Under the deal, the P5+1 will release oil revenues frozen in bank accounts and ease some sanctions and trade restrictions in a package worth some seven billion dollars (5.2 billion euros).
The "core architecture" of oil, finance and banking sanctions will however remain in place, resulting in lost oil revenues of $30 billion over the six months, according to the White House.
It remains to be seen whether the United States will stick to another commitment in the accord, that of not imposing any new sanctions for the half-year period.
US President Barack Obama is having to fight hard to convince hawkish US lawmakers from both parties to hold off on new sanctions, even with a built-in six-month delay.
Let off the hook?
Some of the measures outlined in the Geneva accord tally with a separate framework deal signed by IAEA chief Yukiya Amano in Tehran on November 11, which will be discussed further in Wednesday's meeting.
One of the six steps outlined in that accord, a visit to the heavy water production plant at Arak — not the reactor, which the IAEA regularly visits — took place on Sunday. It was the first visit there since August 2011.
Noticeable by its absence in the November 11 deal was any specific reference to the IAEA's stalled, two-year-old probe into alleged "military dimensions" before 2003, and possibly since, of Iran's nuclear programme.
In order to reach the final, comprehensive deal, these potentially awkward questions — which include requests to visit the Parchin military base — need to be addressed, analysts say.
"Unless Iran satisfies the IAEA's concerns, a final resolution appears doubtful," David Albright and Andrea Stricker of the Institute for Science and International Security (ISIS) said.