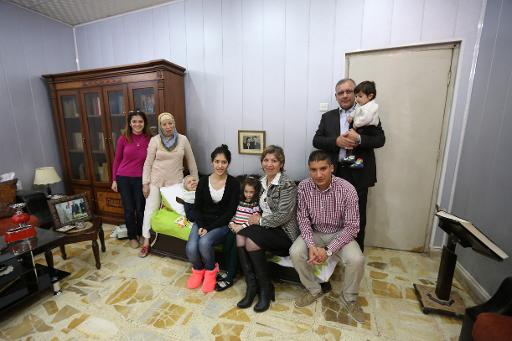 Last updated: 12 December, 2013
Years later, kidnapped Iraqi's family finds no closure
It took several years after his father's kidnapping in Baghdad, but at a certain point — he cannot remember precisely when — Ali al-Saffar began referring to him in the past tense.
He says he no longer craves justice, and that the anger has largely faded. All he wants is his father's body, to give him a proper burial, to have some closure.
"Is it 'My dad is' or 'My dad was?'" asked Ali, speaking by telephone from London.
"I honestly don't know. Now, I've started to say 'was'. But it took a long time to get to that point."
"It's simple things like this that really affect you."
As Iraq grapples with a new surge in violence, families of all religious and ethnic backgrounds are still hoping to find loved ones who were snatched during the brutal sectarian fighting that peaked in 2006-2007.
Kidnappings became common in the years after the 2003 US-led invasion that ousted Saddam Hussein, with Iraqi officials saying this year that 16,000 people went missing in the decade that followed.
The real number could be higher, as many cases went unreported.
Ali's father Ammar was a deputy minister of health in November 2006 when, after returning from work, a group of men stormed into his home with guns blazing and took him away.
With seven years having passed since he was kidnapped, Ammar is now legally considered dead in Britain, where his wife lives.
"It's not just my dad — it's the cumulative total of all these kidnapped and missing people," said Ali, who was 21 when his father was taken. He now lives in Paris and is married, with a child on the way.
"Our livelihoods are protected. But for a lot of people, the breadwinner is gone. This is not good for society; it's not good for social cohesion."
Ammar al-Saffar returned to his homeland shortly after Saddam was ousted, hoping to help rebuild the country after long years in exile in London as a member of Iraq's Shiite opposition. He was quickly put to work in the ministry of health.
He lived with his mother in their modest family home in Baghdad, choosing — unlike many senior officials — to live outside the heavily guarded Green Zone complex that now houses parliament and the US embassy.
But as time went on, the ministry succumbed to rampant corruption and was widely suspected of being infiltrated by Shiite death squads. Even today, officials at Baghdad's morgue admit that Sunnis are afraid to collect bodies for fear of being targeted.
Across the capital, violence was worsening, and Ammar's family, who spoke to him several times a day, asked him to return to London. He tried submitting his resignation, but to no avail.
'We don't know when he died'
On November 19, 2006, Ammar returned to his mother's home and, after speaking to his niece Reem on the telephone, was relaxing with his brother-in-law and nephew in the house's front courtyard.
Suddenly, three pickup trucks and two cars pulled up in front of the house, and a group of men — some in military fatigues, the rest in suits — opened the front gate. They kicked Ammar's brother-in-law and forced the trio to the ground.
One of the men — the only one covering his face — identified Ammar as gunmen rampaged through the house while his mother watched, before the group took the deputy minister and sped away.
Two grainy videos were subsequently sent to family members with Ammar's face visible, while a third depicted a hooded man being shot dead.
A body has never been recovered, a death certificate has never been issued, and no one has been convicted in connection with the kidnapping.
"I just want to know where he is," said Ammar's nephew Zaid, who still lives at the family home and broke down in tears when recalling memories of his uncle. "What happened to him?"
The 27-year-old said he and others had begged Ammar to beef up his security after multiple assassination attempts, but that he refused, instead relieving his guards after returning home so that they could spend time with their families.
"He would say, 'Allah hafidh' (God protects) and I cannot leave my mum and my sisters. I am happy in this home," said Ammar's younger brother Yasir.
Yasir had been living in London at the time of the kidnapping, but has since moved to Baghdad, and now spends his time looking for work and enquiring after his brother in the hope of one day finding his body.
Yasir still yearns for justice, while Ammar's mother holds out hope her son is alive, somewhere, and will eventually return.
"Every day, she hopes Ammar will be back, and she prays," Yasir said.
"She says she will throw a party when he is back, she will go to Karbala with him, and to Mecca," he added, referring to Islamic holy cities.
Trips to his grandmother's home, the site of his father's kidnapping, are fraught with unanswered questions for Ali.
"There are certain milestones in a year that you celebrate, or you commemorate," he said. "We don't know what is what… We know what day he was kidnapped, but we don't know what day he died."
"I would say the first three, four, five years, you're raging for justice," he said. "But for the sake of the country, you have to move on. All you want is closure."