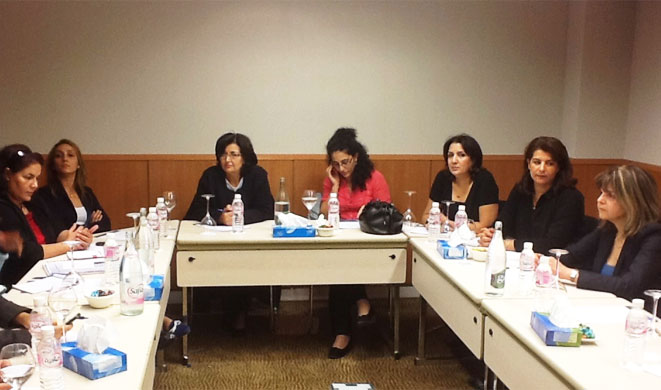 Last updated: 19 December, 2013
Feminist TV channel to empower women in the Mediterranean countries
The first Euro-Mediterranean TV channel with the aim of promoting gender equality and empowering women within the Union for the Mediterranean countries is about to be launched.
"We will start broadcasting for 8 hours per day on the 8thof March 2014, which is the International Women's Day. The administrative office will be in Brussels and the main one will be in Tunisia. We will have offices in different major cities including Beirut and Cairo", says Lila Lefèvre, the director of Nissa TV (which means women TV) and the president of the Euromed Audiovisual Productions which is the body responsible for managing and promoting Nissa TV.
The programs of Nissa TV will include reality shows that will directly engage its female participants in raising awareness about their rights and provide them with the needed expertise to practice their political, legal, economic and social rights pertinent to their emancipation.
"We will focus on such type of programs which are better at making a change towards eradicating sexist ideologies and policies and achieving gender equality in society", says Lefèvre.
World-wide, the mass media has contributed to the normalization of objectification of women and to stripping women of any identity or rights "since subjects have identities and rights but objects do not", according to Sarah Mallat, who taught a digital media literacy class at the American University of Beirut and who wrote her thesis on plastic surgery in Lebanon and the influence of media's messages on women. The mass media present women as "something to be bought, sold, modified, or to accompany something else like an accessory," says Mallat.
At a very young age, women in Lebanon are pursuing cosmetic enhancements and performing plastic surgeries. Mohamad Hifawi, a professional make-up artist, says that many teenage girls at the ages of 15 and 16 who visit his salon have already done their noses. This obsession with appearance from a very young age is one of the consequences of media's messages communicating the idea that women's physical appearance is their most important trait.
Nissa TV's challenge lies in broadcasting to some countries with the lowest rankings on the 2013 Global Gender Gap Index. Six out of the 16 worst countries regarding gender equality are found in the Mediterranean group.
Nissa TV's programs will tackle women's controversial issues and will address the feminist movement, its history, and how it evolved.
One of the methods used to creating alternative media whereby women are neither undermined nor objectified is "working on changing the popular culture's discourses and misconceptions on gender issues in society through using media as a tool," says Roula El-Masri, Gender Equality Manager at ABAAD, a resource center for gender equality.
Lila Lefèvre explains that Nissa TV differs from other previous similar initiatives. The Heya TV channel (She TV channel), for example, which was launched several years ago with the purpose of empowering women broadcasts to Middle Eastern countries only. Nissa TV, however, will broadcast to the Union for the Mediterranean countries which comprise of 43 countries of which 28 are EU member states.
"It (Nissa TV) differs from all previous and timid attempts. Specialized women's sections in magazines, newspapers, or TV programs often talk about cooking, parenting, and home decoration. When these programs handle women's issues they often do in a 'caricaturish' manner which reinforces the stereotype about women's traditional roles as mothers, homemakers, and sexual objects," Lefèvre notes.
Nissa TV's programs will tackle women's controversial issues and will address the feminist movement, its history, and how it evolved.
"The news bulletins will have a feminist flavor. The most prominent element of the news bulletin will be the woman. We will present women's success stories in the fields of economics, politics, and cultural affairs. We will also try to show that women in Mediterranean countries share similar problems and concerns as the women in Europe," Lefèvre says.
In different countries, a culture of violence against women is fostered by women's objectification in the media, as documentaries such as Killing Us Softly and Miss Representation show. In addition to gender-based violence, eating disorders and sexism are found to be linked to the growing exposure to sexually offensive media materials as countless studies over the past four decades have established, according to Mallat.
In Lebanon, for example, according to the UNFPA, gender-based violence prevalence studies revealed that 35% of women presenting to primary health care facilities report being subject to domestic violence. Lebanese women are underrepresented in parliament where Lebanon ranks 133 out of 136 countries regarding political empowerment on the 2013 Global Gender Gap Report.
Another challenge for Nissa TV is to attract an audience living in misogynistic societies. Lefèvre explains that Nissa TV is going to balance between promoting for gender equality and attracting an audience who might hold well to traditional and sexist ideas about women.
"By engaging men in interactive programs and interviews, I think we will be able to promote gender equality."
According to El-Masri, the solution to end violence against women is by engaging both women and men. "We believe that men play an important role in putting an end to violence against women either by being active in this cause or by raising awareness about the issue."