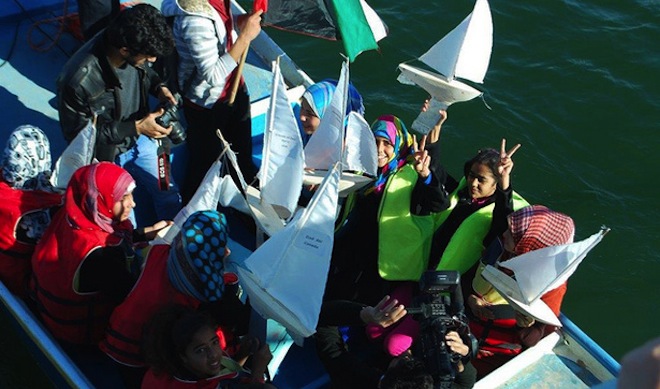 Last updated: 8 January, 2014
Gaza's wet and wild nonviolence
Gazans have a lot of experience with the Israeli blockade. But perhaps there's a new way forward?
Since 2008, nonviolent opposition to the Israeli blockade of the Gaza Strip has been waged by land and by sea. Most of the traditional attempts to break the siege on Gaza have been unsuccessful; three years ago, for instance, the boarding of the MV Mavi Marmara left nine dead, many wounded and none of the humanitarian aid aboard in the hands of the Palestinians.
"A few boats tested the waters and crossed the zone line."
In a stroke of brilliance, activists came up with a plan to flip their strategy; instead of trying to get goods from the outside world into Gaza, they created a way to get goods beyond the siege. The Gaza's Ark project centers around rebuilding an old fishing boat into a cargo ship — by training and hiring locals to do the construction, as well as establishing trading partners to receive the Palestinian goods. Internationals are acting as consultants and supporters rather than as saviors. Meanwhile, this outbound trade is keeping alive shipbuilding expertise and seamanship skills, providing local jobs and helping to rebuild the Gaza Strip's economy.
On November 30, as part of this campaign, hundreds of Palestinian kids created "mini-arks" and set them sailing from the port of Gaza out to sea as a poignant expression of their hope to be free of the blockade.
Once more, on December 2, another flotilla assembled to challenge the naval blockade that restricts fishing to within six nautical miles of Gaza's shore. The limit presents a problem for the local fishermen, making it nearly impossible for them to support themselves or deliver enough fish to the markets. More than 10 fishing ships carrying 120 people on board were part of the Sumud Justice Flotilla, which sailed to the edge of the restriction zone. There, a few boats tested the waters and crossed the zone line. Although it's common for fishing boats to be fired upon near the edge of the zone, no shots were fired and all boats returned home in one piece.
Nadine Bloch is an innovative artist, nonviolent practitioner, political organizer, direct-action trainer, and puppetista, who combines the principles and strategies of nonviolent civil disobedience with creative use of the arts in cultural resistance and public protest. She has worked with diverse organizations, including Nonviolence International, Greenpeace, The Ruckus Society, The Labor Heritage Foundation, Health GAP, Housing Works and the Bread & Puppet Theater. Her work has been featured nationally and locally, in newspapers like The Washington Post and magazines from Ms. to Time. She is a contributor to the books Beautiful Trouble: A Toolbox for Revolution (2012, O/R Press) and We Are Many, Reflections on Movement Strategy from Occupation to Liberation (2012, AK Press).
A longer version of this article originally appeared on Waging Non-Violence.